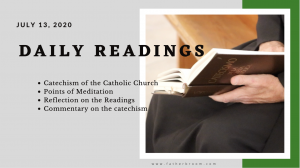 July 13 2020
Monday of the Fifteenth Week in Ordinary Time
Reading 1 IS 1:10-17 
Hear the word of the LORD,
princes of Sodom!
Listen to the instruction of our God,
people of Gomorrah!
What care I for the number of your sacrifices?
says the LORD.
I have had enough of whole-burnt rams
and fat of fatlings;
In the blood of calves, lambs and goats
I find no pleasure.
When you come in to visit me,
who asks these things of you?
Trample my courts no more!
Bring no more worthless offerings;
your incense is loathsome to me.
New moon