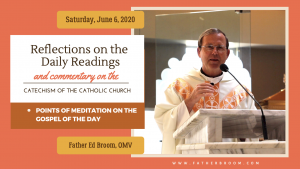 Saturday of the Ninth Week in Ordinary Time
Reading 1
2 TM 4: 1-8
Beloved:
I charge you in the presence of God and of Christ Jesus,
who will judge the living and the dead,
and by his appearing and his kingly power:
proclaim the word;
be persistent whether it is convenient or inconvenient;
convince, reprimand, encourage through all patience and teaching.
For the time will come when people will not tolerate sound doctrine
but, following their own desires and insatiable curiosity,
will accumulate teachers and will stop listening to the truth
and will be diverted to myths.
But you, be self-possessed in all circumstances;
put up with hardship;
perform the work of an evangelist;
fulfill your ministry.
For I am already being poured out like a libation,
and the time of my departure is at hand.
I have competed well;
I have finished the race; I have kept the faith.
From now on the crown of righteousness awaits me,
which the Lord, the just judge,
will award to me on that day, and not only to me,
but to all who have longed for his appearance.


Responsorial Psalm PS 71: 8 -9, 14-15, AB, 16-17, 22
R. (see 15ab)  I will sing of your salvation.My mouth shall be filled with your praise,with your glory day by day.Cast me not off in my old age;as my strength fails, forsake me not.
R. I will sing of your salvation.
But I will always hope
and praise you ever more and more.
My mouth shall declare your justice,
day by day your salvation.
R. I will sing of your salvation.
I will treat of the mighty works of the Lord;
O God, I will tell of your singular justice.
O God, you have taught me from my youth,
and till the present I proclaim your wondrous deeds.
R. I will sing of your salvation.
So will I give you thanks with music on the lyre,
for your faithfulness, O my God!
I will sing your praises with the harp,
O Holy One of Israel!
R. I will sing of your salvation.

Gospel MK 12: 38-44
In the course of his teaching Jesus said,
"Beware of the scribes, who like to go around in long robes
and accept greetings in the marketplaces,
seats of honor in synagogues,
and places of honor at banquets.
They devour the houses of widows and, as a pretext,
recite lengthy prayers.
They will receive a very severe condemnation."
He sat down opposite the treasury
and observed how the crowd put money into the treasury.
Many rich people put in large sums.
A poor widow also came and put in two small coins worth a few cents.
Calling his disciples to himself, he said to them,
"Amen, I say to you, this poor widow put in more
than all the other contributors to the treasury.
For they have all contributed from their surplus wealth,
but she, from her poverty, has contributed all she had,
her whole livelihood."


Catechism of the Catholic Church
PROLOGUE
"FATHER,… this is eternal life, that they may know you, the only true God, and Jesus Christ whom you have sent."1"God our Saviour desires all men to be saved and to come to the knowledge of the truth."2"There is no other name under heaven given among men by which we must be saved"3 – than the name of JESUS.
I. The life of man – to know and love God
1 God, infinitely perfect and blessed in himself, in a plan of sheer goodness freely created man to make him share in his own blessed life. For this reason, at every time and in every place, God draws close to man. He calls man to seek him, to know him, to love him with all his strength. He calls together all men, scattered and divided by sin, into the unity of his family, the Church. To accomplish this, when the fullness of time had come, God sent his Son as Redeemer and Saviour. In his Son and through him, he invites men to become, in the Holy Spirit, his adopted children and thus heirs of his blessed life.

Mk. 12:38-44
  

"A poor widow also came and put in two small coins worth a few cents."
There was no paper money at the time of Christ – Syrian, Roman, and Jewish coins were the common currency. According to Biblical scholars, the outer wall of the temple treasury was fitted with trumpet-shaped receptacles where people placed their offerings. Large offerings created a clamoring echo in the horn as the coins cascaded to an opening at the bottom, then into a secure strongbox. 
Those making large offerings would draw the attention of standers-by. Whereas the offering of the widow's two small coins wouldn't be noticed by anyone, except Jesus who sees everything, even the intentions of our heart. It is this contrast to which the Lord draws our attention. Related to the Gospel, we can examine ourselves on three points.
First, do we have a right intention in the practice of our faith – in our prayers, our sacrifices, and our good works? Jesus says, "Beware of practicing your piety before men in order to be seen by them; for then you will have no reward from your Father who is in heaven." (Mt. 6:1)
We grow in right intention by praying for the grace, and by rejecting discouragement! Yes, our intentions are not as pure as we would like. Yes, our motives may be mixed. But St. John Vianney reminds us, "God commands you to pray, but He forbids you to worry!" What we lose in purity, we can gain in humility! Let us consecrate our prayers, sacrifices, and good works each day to Our Blessed Mother, knowing our tainted gifts will be well-received by her Son when they come from her hands!
Second, are we generous? Do we give from our surplus or from our poverty? In other words, do we give until it hurts? And not just money, though it's important to support our parish and worthy charities. Do we give of ourselves starting in our home and family, do we give of our time and abilities? Do we live to serve or to be served? What about our heart? Are we compassionate, finely tuned to the sufferings of others, like the hearts of Jesus and Mary? Are we quick to give an encouraging word? Do we readily extend a helping hand? Do we carry the concerns and needs of others in our heart, bringing them before the Lord in our prayers?
Jesus promised: "Give, and it will be given to you. A good measure, pressed down, shaken together and running over, will be poured into your lap. For with the measure you use, it will be measured to you." (Lk. 6:38)
Third, do we sincerely strive to give God what is due to Him – nothing less than loving Him with all our heart, all our mind, all our soul, and all our strength! Do we love Him as He asked us to: "If you love me, you will keep my commandments." (Jn. 14:15) And, "A new commandment I give you, as I have loved you, so you must love one another." (Jn. 13:34) And He loved us, even to death on the cross. Do we manifest a self-giving, sacrificial love for God and neighbor?
Are we obedient to God in all things? Do we strive to keep the Ten Commandments? Do we live according to the teachings of His holy Church directed by our Holy Father and guided by our good priests? Do we receive with a merciful and loving heart every person He puts in our path? Do we accept with a willing spirit all He permits to happen in our daily life? Do we do what God wills and not what we prefer? Do we accept God's vision for our life or do we create our own? St. Ignatius refers to this spirit of detachment as Holy Indifference!
Let us beg now for the grace to grow in right intention, generosity in giving of our means and of ourselves, and loving obedience to His holy will, preferring all that God prefers and has chosen for us, for our eternal salvation and the salvation of the whole world. "For the sake of His sorrowful Passion, have mercy on us and on the whole world."
God sees what others cannot see – what is in our heart and what it costs us to give our "widow's mite." St. Faustina give us these words of wisdom: "As the soul continues to immerse itself more deeply into the abyss of its nothingness and need, God uses His omnipotence to exalt it. If there is a truly happy soul upon earth, it can only be a truly humble soul. At first, one's self-love suffers greatly on this account, but after a soul has struggled courageously, God grants it much light by which it sees how wretched and full of deception everything is. God alone is in its heart. A humble soul does not trust itself, but places all its confidence in God. God defends the humble soul and lets Himself into its secrets, and the soul abides in unsurpassable happiness which no one can comprehend." (St. Faustina Diary 593)
"God never violates our free will. It is up to us whether we want to receive God's grace or not. It is up to us whether we will cooperate with it or waste it." (St. Faustina Diary 1107)
Copyright 2020 Oblates of the Virgin Mary
St. Peter Chanel Church, Hawaiian Gardens, CA