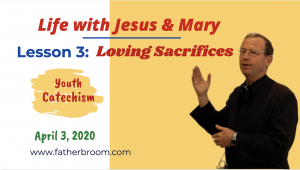 Lesson 3: Loving Sacrifices
When we make a sacrifice with love in our hearts and Sanctifying Grace in our souls, our loving sacrifice is united to the Loving sacrifice of Jesus on the Cross. Through these sacrifices God does many beautiful things.
1. What is a sacrifice?
A sacrifice is a good action that I offer to God to show Him that I love Him. These actions are often difficult to do.  All the saints made many loving sacrifices.
2. What day of the week are we required to make some sacrifice?
It is good to make sacrifices every day, … Read more