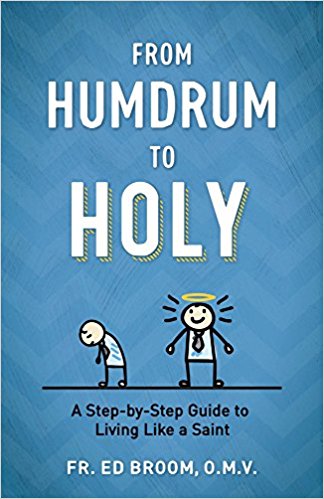 Do you attend Mass out of love rather than obligation?
Are you closer to God now than you were a year ago?
Are you able to keep a consistent prayer life?
If you answered "no" to any of these questions, your spiritual life needs a jump-start. In From Humdrum to Holy, Catholic priest and radio host, Fr. Ed Broom, will stir a holy reverence and spiritual joy that'll point your soul to heaven.
By following the wise counsel of this experienced spiritual advisor and confessor, you'll first learn how to identify those hidden sins in your life that keep God from working in your soul.
Fr. Ed will walk you through the simple steps to create a plan of life — your road map to the heights of holiness. In a clear, methodical, and practical way, you'll learn how to cultivate virtues like patience and purity — essential for happiness in this life and getting into heaven in the next!
You'll discover some of the most potent Catholic traditions, such as lectio divina, that have made saints out of countless sinners. And he'll show you how to transform pious practices such as Confession and Eucharistic adoration into powerful graces flooding into your soul.
And finally, you'll learn how to keep your spiritual life strong by forming a healthy conscience, and how the pains of suffering can be transformed into the tears of joy.
Scripture tells us that where sin abounds, grace abounds all the more. Our world needs saints, and God is offering you the graces needed to become one. Leave behind the humdrum spiritual life and open the door to the road to sainthood. Fr. Broom is ready to show you the way.
Reviews
"Vatican II taught that all are called to holiness. In Fr. Broom's book, readers will find an accessible and practical guide toward that goal."
Fr. Timothy M. Gallagher, OMV
"I'm a direct beneficiary of Fr. Ed Broom's extraordinary zeal for souls. His passionate pastoral concern for lost sheep helped bring me back to the practice of my Catholic Faith in high school, and his stirring homilies enkindled in me an ardent desire for holiness. I pray that the potent practical wisdom of these pages will inspire many others to strive for greater sanctity."
Fr. Michael Gaitley, MIC
Author, 33 Days to Merciful Love
"Those who long for a serious, yet simple and doable, path to spiritual growth, to holiness and to wholeness, will find a treasure in this wonderfully-readable spiritual gem. Don't be afraid to let God love you and transform you into the saint He created you to be!"
Mother Miriam Of The Lamb Of God, O.S.B.
Daughters of Mary, Mother of Israel's Hope