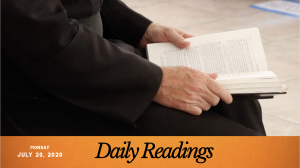 July 20 2020
Monday of the Sixteenth Week in Ordinary Time
Reading 1 MI 6:1-4, 6-8 
Hear what the LORD says:
Arise, present your plea before the mountains,
and let the hills hear your voice!
Hear, O mountains, the plea of the LORD,
pay attention, O foundations of the earth!
For the LORD has a plea against his people,
and he enters into trial with Israel.
O my people, what have I done to you,
or how have I wearied you? Answer me!
For I brought you up from the land of Egypt,
from the place of slavery I released you;
and I sent before you Moses,
Aaron, and Miriam.
With what shall I come before the LORD,
and bow before God most high?
Shall I come before him with burnt offerings,
with calves a year old?
Will the LORD be pleased with thousands of rams,
with myriad streams of oil?
Shall I give my first-born for my crime,
the fruit of my body for the sin of my soul?
You have been told, O man, what is good,
and what the LORD requires of you:
Only to do the right and to love goodness,
and to walk humbly with your God.
Responsorial Psalm 50:5-6, 8-9, 16-17, 21 and 23 
R. (23b) To the upright I will show the saving power of God.
"Gather my faithful ones before me,
those who have made a covenant with me by sacrifice."
And the heavens proclaim his justice;
for God himself is the judge.
R. To the upright I will show the saving power of God.
"Not for your sacrifices do I rebuke you,
for your burnt offerings are before me always.
I take from your house no bullock,
no goats out of your fold."
R. To the upright I will show the saving power of God.
"Why do you recite my statutes,
and profess my covenant with your mouth,
Though you hate discipline
and cast my words behind you?"
R. To the upright I will show the saving power of God.
"When you do these things, shall I be deaf to it?
Or do you think that I am like yourself?
I will correct you by drawing them up before your eyes.
He that offers praise as a sacrifice glorifies me;
and to him that goes the right way I will show the salvation of God."
R. To the upright I will show the saving power of God.
Alleluia PS 95:8
R. Alleluia, alleluia.
If today you hear his voice,
harden not your hearts.
R. Alleluia, alleluia.
Gospel MT 12:38-42 
Some of the scribes and Pharisees said to Jesus,
"Teacher, we wish to see a sign from you."
He said to them in reply,
"An evil and unfaithful generation seeks a sign,
but no sign will be given it
except the sign of Jonah the prophet.
Just as Jonah was in the belly of the whale three days and three nights,
so will the Son of Man be in the heart of the earth
three days and three nights.
At the judgment, the men of Nineveh will arise with this generation
and condemn it, because they repented at the preaching of Jonah;
and there is something greater than Jonah here.
At the judgment the queen of the south will arise with this generation
and condemn it, because she came from the ends of the earth
to hear the wisdom of Solomon;
and there is something greater than Solomon here."


Catechism of the Catholic Church
48  We really can name God, starting from the manifold perfections of his creatures, which are likenesses of the infinitely perfect God, even if our limited language cannot exhaust the mystery.
"For greater things you were born." (Ven. Mother Luisita)
MONDAY, JULY 20TH   Mt. 12:38-42  "Just as Jonah was in the belly of the whale three days and three nights, so will the Son of Man be in the heart of the earth three days and nights."
Perseverance Points followed by the inspiring story of Chiara Corbella Petrillo…
Jesus predicts His passion, death and Resurrection. Something for them to remember when reports reach them that the tomb is empty after He has risen from the dead!
In Matthew Chapter 10, Jesus tells His twelve apostles they will also suffer. And if they will suffer, so will future generations of His disciples suffer! So will we suffer!
"I am sending you out like sheep among wolves. Therefore be as shrewd as snakes and as innocent as doves. Be on your guard; you will be handed over to the local councils and be flogged in the synagogues. On my account you will be brought before governors and kings as witnesses to them and to the Gentiles. But when they arrest you, do not worry about what to say or how to say it. At that time you will be given what to say, for it will not be you speaking, but the Spirit of your Father speaking through you." (Mt. 10: 16-20)
"Do not be afraid of those who kill the body but cannot kill the soul. Rather, be afraid of the One who can destroy both soul and body in hell. Are not two sparrows sold for a penny? Yet not one of them will fall to the ground outside your Father's care. And even the very hairs of your head are all numbered. So don't be afraid; you are worth more than many sparrows." (Mt. 10:28-31)
"Whoever acknowledges me before others, I will also acknowledge before my Father in heaven. But whoever disowns me before others, I will disown before my father in heaven." (Mt. 10: 32-33)
"Do not suppose that I have come to bring peace to the earth. I did not come to bring peace, but a sword." (Mt. 10: 34)
"Anyone who loves their father or mother more than me is not worthy of me; anyone who loves their son or daughter more than me is not worthy of me. Whoever does not take up their cross and follow me is not worthy of me. Whoever finds their life will lose it, and whoever loses their life for my sake will find it." (Mt. 10: 37-39)
Jesus made their mission clear to them. But they were not ready. All the Apostles, except John, ran from the cross of Christ! Their formation in discipleship was not complete until the coming of the Holy Spirit on Pentecost, after nine days of prayer in the presence of the Blessed Mother! Where Mary is, you will find the Holy Spirit!
Paul tell us the rest of the story. He is counted as an Apostle selected by Jesus on the road to Damascus when he was knocked off his horse, blinded by light from heaven, and heard these words that changed him forever. "Saul, Saul, why do you persecute me?"… "Who are you, Lord?"…"I am Jesus, whom you are persecuting. Now get up and go into the city, and you will be told what you must do."
The rest of the story that St. Paul shares with us is what is on the other side of the coin of suffering – the glory that awaits us! When you are fingering the coin of suffering, never forget to turn the coin over and read the promise of glory!
Rom. 8: 18-30   I consider that our present sufferings are not worth comparing with the glory that will be revealed in us.  For the creation waits in eager expectation for the children of God to be revealed. For the creation was subjected to frustration, not by its own choice, but by the will of the one who subjected it, in hope that the creation itself will be liberated from its bondage to decay and brought into the freedom and glory of the children of God.
We know that the whole creation has been groaning as in the pains of childbirth right up to the present time. Not only so, but we ourselves, who have the first fruits of the Spirit, groan inwardly as we wait eagerly for our adoption to sonship, the redemption of our bodies. For in this hope we were saved. But hope that is seen is no hope at all. Who hopes for what they already have? But if we hope for what we do not yet have, we wait for it patiently.
In the same way, the Spirit helps us in our weakness. We do not know what we ought to pray for, but the Spirit himself intercedes for us through ineffable groans. And he who searches our hearts knows the mind of the Spirit, because the Spirit intercedes for God's people in accordance with the will of God.
And we know that in all things God works for the good of those who love him, who have been called according to his purpose. For those God foreknew he also predestined to be conformed to the image of his Son, that he might be the firstborn among many brothers and sisters.
The sufferings of this life come to us in many ways, one is religious persecution. We have seen evidence of that recently in the desecration of sacred objects. But all the sufferings of this life are permitted by God for the purpose for which we were created, "to praise, reverence, and serve God, and by this means to save our soul" – Principle and Foundation, Spiritual Exercises. And we might add, to save many souls!
Jesus' suffering and death on the cross was the means of our salvation; however, God in His infinite wisdom and goodness allows us to join our sufferings, of whatever kind, to the suffering of Jesus on the cross for our salvation and the salvation of others!
Our Lady of Fatima told the children that souls are going to hell because there is no one to suffer and pray for them! Your son or daughter who is far from God? It is your prayers, suffering and love for them that will be the means of their salvation. As were the prayers, suffering and tears of Monica for Augustine! And God made TWO saints!
The Way of the Cross… by Father John Tauler, O.P.
And now occurs a question. Since God draws some men to Him by means of joy and others by means of sorrow, by which of these did He draw the disciples? The answer is found in considering their life. It was passed in our Savior's company in much hardship, ending in great shame and distress. So they were drawn to God more by sorrow than by joy.
And especially after their Master's cruel death were they in a state of bitter suffering, until they had become entirely detached. And, thus, by the special favor of their heavenly Father, they were made fit to receive the Holy Spirit by the way of suffering. 

The drawing through sorrow is a safer way than through joy. And it is in this sense that St. Gregory understands the Psalmist: "A thousand shall fall at thy side, and ten thousand at thy right hand" (Ps 91:7) – meaning that a thousand helpers shall fail you in time of sorrow and persecution, but ten thousand shall fail you in time of joy and prosperity.
And the way to God through sorrow is more like Christ's way in all His life, and in His death. It is, besides, a better sign of God's love, for it is written: "Such as I love, I rebuke and chastise" (Rev 3:19).

It is, indeed, true that the disciples enjoyed a close familiar companionship with the divine Master, but it was embittered by the knowledge that for every gift they got they must suffer the death of all self-love.
And as fast as God relieved them of one suffering, He sent them another just as hard – for God is always accustomed to thus treat His beloved friends. The disciples found this to be the case, and so must they keep on suffering to the end, according as their heavenly Father arranged for them. Until at last their sorrow was turned into joy, and they were glad to suffer for the name of Jesus.
Father John Tauler, O.P. (1300-1361) Dominican Priest, Theologian, disciple of Meister Eckhart and known as one of the most important Rhineland Mystics.
There is nothing more counter-cultural than offering up suffering! We cannot reflect on this too much! Let's look at what the Saints have to say about suffering…
+ "If God gives you an abundant harvest of trials, it is a sign of great holiness which He desires you to attain. The flame of Divine Love never rises higher than when fed with the wood of the Cross, which the infinite charity of the Savior used to finish His sacrifice. All the pleasures of the world are nothing compared with the sweetness found in the gall and vinegar offered to Jesus Christ. That is, hard and painful things endured for Jesus Christ and with Jesus Christ." —Saint Ignatius of Loyola

+ Jesus spoke these words to Saint Faustina: "There is but one price at which souls are bought and that is suffering united to My suffering on the cross. Every conversion of a sinful soul demands sacrifice. I have need of your sufferings to rescue souls. Help Me, My daughter to save souls. Join your sufferings to My Passion and offer them to the Heavenly Father for sinners. The loss of each soul plunges Me into mortal sadness. You always console Me when you pray for sinners. The prayer most pleasing to Me is prayer for the conversion of sinners."  — Diary of St. Faustina
+ "God had one son on earth without sin, but never one without suffering."–Saint Augustine
+ "The road is narrow. He who wishes to travel it more easily must cast off all things and use the cross as his cane. In other words, he must be truly resolved to suffer willingly for the love of God in all things."  —Saint John of the Cross
+ "If you really want to love Jesus, first learn to suffer, because suffering teaches you to love."  —Saint Gemma Galgani
+ "He who wishes to love God does not truly love Him if he has not an ardent and constant desire to suffer for His sake."  —Saint Aloysius Gonzaga
+ "For Jesus Christ I am prepared to suffer still more." —Saint Maximilian Kolbe

+ "I always want to see you behaving like a brave soldier who does not complain about his own suffering but takes his comrades' wounds seriously and treats his own as nothing but scratches."  —Saint Therese of Lisieux to her novices
+ "If we only knew the precious treasure hidden in infirmities, we would receive them with the same joy with which we receive the greatest benefits, and we would bear them without ever complaining or showing signs of weariness."  —Saint Vincent de Paul
+  "When it is all over you will not regret having suffered; rather you will regret having suffered so little, and suffered that little so badly."  —Saint Sebastian Valfre
"A saint for our times"
The inspiring story of Chiara Corbella Petrillo

By Maggie Maslak
Manchester, N.H., Dec 2, 2015 / 12:05 am (CNA).- Chiara Corbella Petrillo lived a short life. 
She met her husband Enrico Petrillo at age 18, became the mother of three children, and died at the age 28. 
But what happened within those 10 years has touched the hearts of thousands across the globe in the newly-released book "Chiara Corbella Petrillo: A Witness to Joy," published by Sophia Institute Press earlier this year. 
"In the story of the Petrillo couple, many people recognize a providential consolation from heaven," said Simone Troisi and Christiana Paccini, close friends of the Petrillo's who wrote the biography of Chiara's life. 
"They discover that in any situation, there is no real reason to be sad. This is because Chiara shows that if you have God as your guide, misfortunes do not exist," they told CNA.
Chiara and Enrico married in Italy on September 21, 2008 after having met at Medjugorje in 2002. During the early years of their marriage, the young Italian couple faced many hardships together, including the death of two children, who both died only 30 minutes after birth. 
Chiara became pregnant a third time with their son, Francesco. However, the joyful news of their pregnancy also came with a fatal diagnosis of cancer for Chiara. Her cancer was an unusual lesion of the tongue, which was later discovered to be a carcinoma. 
Chiara rejected any treatment that could have saved her life during pregnancy because it would have risked the life of her unborn son. As the cancer progressed, it became difficult for Chiara to speak and see clearly, eventually making her final days on earth particularly excruciating. 
"Her [Chiara's] suffering became a holy place because it was the place where she encountered God," Troisi and Paccini recalled.
Although many couples face hardships, Troisi and Paccini remembered something different about the Petrillos – they leaned on God's grace which made their family particularly serene. They made peace with the reality that Chiara would never grow old with Enrico or watch Francesco grow up. 
During Chiara's last days, Enrico embraced God's grace just as Chiara did, saying, "If she is going to be with Someone who loves her more than I, why should I be upset?"  
Chiara died on June 13, 2012 at home in her wedding gown, surrounded by her family and friends. Although her earthly life was over, Chiara would continue to be a witness to joy.
Troisi and Paccini believe that Chiara's legacy is still living on because she gave witness to the truth that "love exists." Neither she nor Enrico were afraid of love, marriage, or of committing themselves to their family. 
According to the authors, the young couple showed how "the purpose of our life is to love… to be married is a wonderful thing, an adventure that opens you up to Heaven in the home." 
Chiara and Enrico's remarkable story is "a story of salvation in which God shows himself as a faithful God: they trust in Him and are not disappointed," Troisi and Paccini stated. 
However, they were quick to note that Chiara was not "an extraordinary young woman, in a way that makes her different from us." Rather, she struggled with many human fears and anxieties, especially with thoughts of pain, vomiting, and purgatory. 
"She had the same questions that we have, the same objections and struggles, the same fears," Troisi and Paccini noted, saying what made her different was her "capacity to cast everything on the Father, to welcome the grace needed for whatever step she had to make."
With Chiara, the ordinary always became the extraordinary. Troisi and Paccini have fond memories of everyday life with the Petrillos, when a conversation about cooking chicken would end in talking about heaven. 
"We would share simple things like dinner, chatting, games on the rug with little Francesco… always very simple, without masks," they remembered.
"But when we were together, there was no difficulty in believing that eternal life was here and now!" 
Chiara has been called "a saint for our times." Although her death was only three years ago, her legacy lives on and has inspired others around the world to be the same witness to joy.
"Today, this joy is visible in those that lived alongside her: even if they miss her, they experience a mysterious and profound joy," Troisi and Paccini stated.
"We cannot insist enough on the fact that Chiara did what she did, not trusting in her own strength, but trusting in the grace and the consolation of God… She never doubted God's faithfulness to His promise of happiness for her story."