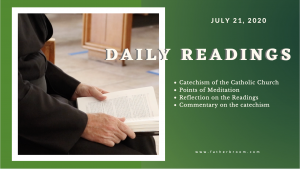 July 21 2020
Tuesday of the Sixteenth Week in Ordinary Time
Reading 1 MI 7:14-15, 18-20
Shepherd your people with your staff,
the flock of your inheritance,
That dwells apart in a woodland,
in the midst of Carmel.
Let them feed in Bashan and Gilead,
as in the days of old;
As in the days when you came from the land of Egypt,
show us wonderful signs.
Who is there like you, the God who removes guilt
and pardons sin for the remnant of his inheritance;
Who does not persist in anger forever,
but delights rather in clemency,
And will again have compassion on us,
treading underfoot our guilt?
You will cast into the depths of the sea
all our sins;
You will show faithfulness to Jacob,
and grace to Abraham,
As you have sworn to our fathers
from days of old.
Responsorial Psalm 85 2-4, 5-6, 7-8
R. (8a) Lord, show us your mercy and love.
You have favored, O LORD, your land;
you have brought back the captives of Jacob.
You have forgiven the guilt of your people;
you have covered all their sins.
You have withdrawn all your wrath;
you have revoked your burning anger.
R. Lord, show us your mercy and love.
Restore us, O God our savior,
and abandon your displeasure against us.
Will you be ever angry with us,
prolonging your anger to all generations?
R. Lord, show us your mercy and love.
Will you not instead give us life;
and shall not your people rejoice in you?
Show us, O LORD, your kindness,
and grant us your salvation.
R. Lord, show us your mercy and love.
Alleluia JN 14:23 
R. Alleluia, alleluia.
Whoever loves me will keep my word,
and my Father will love him
and we will come to him.
R. Alleluia, alleluia.
Gospel MT 12:48-50
While Jesus was speaking to the crowds,
his mother and his brothers appeared outside,
wishing to speak with him.
Someone told him, "Your mother and your brothers are standing outside,
asking to speak with you."
But he said in reply to the one who told him,
"Who is my mother? Who are my brothers?"
And stretching out his hand toward his disciples, he said,
"Here are my mother and my brothers.
For whoever does the will of my heavenly Father
is my brother, and sister, and mother."


Catechism of the Catholic Church
49 Without the Creator, the creature vanishes (GS 36). This is the reason why believers know that the love of Christ urges them to bring the light of the living God to those who do not know him or who reject him.
"For greater things you were born." (Ven. Mother Luisita)
TUESDAY, JULY 21ST     Mt. 12:46-50 "Whoever does the will of my heavenly Father is my brother, and sister, and mother."
Doing the will of the heavenly Father… by Saint Lawrence of Brindisi (+1619)
The first lesson taught us by Paul is that we are called to the grace of baptism not because of the merits of our good works but solely because of the goodness of God, not because of any righteous deeds we had done but because of His mercy.
Peter and Andrew are called, not from the Temple where they were praying or sacrificing or engaging in works of piety and mercy and love, but called from the sea where they were rowing and diligently plying their trade of catching fish. Fishing requires no special kind of holiness and virtue.
Moreover, Paul tells us that in baptism a regeneration and renovation takes place through the bath of rebirth and renewal by the Holy Spirit, which makes us very like to Christ in our life, our conduct, and our works, because it was to this that we have been predestined.
Consequently, he writes to the Galatians: All of you who are baptized into Christ have clothed yourselves with Christ. To clothe oneself with Christ, however, means to reflect Christ and make Him visible in our life and conduct.  
If the virtue and righteousness and holiness of the Apostles and all the saints is merely imaginary, does that mean that Christ is, therefore, merely an imaginary Redeemer and Savior? That Adam and Satan had much more power to destroy than Christ and God have to save? If the power of the Holy Spirit in the Apostles was only imaginary, how were they able to perform real works of virtue? Can an imaginary or a painted tree bear real fruits?
These are fruits that were truly present in the Apostles. The Apostles and countless martyrs have already laid down their lives for Christ and suffered cruel torments for the sake of righteousness with great patience and strength of soul and constancy and, even more, with love and a spirit of joy… and with a great desire to suffer even much more.   End of Reflection
We are to be "like Christ in our life, our conduct, and our works, because it is to this that we have been predestined." How does this happen? It is precisely when I acknowledge my nothingness that I become like Christ, for it is no longer I who live, but Christ who lives in me. These are not just pious thoughts – this is reality!
What will change us from cowardly believers to courageous followers of Christ? The same thing that changed the Apostles – the power of the Holy Spirit through the Immaculate Heart of Mary at work in our soul!
How are we doing? Do we bear the ordinary ups and downs of daily living with patience, strength, constancy, and even more, love and joy? The answer depends on one thing and one thing only. Do we accept God's will expressed in the events and circumstances of our day or do we resist and rebel against God's will?
In today's Gospel, Jesus is not being disrespectful to Mary. As a matter of fact, He is exalting Mary, for beyond being His Mother, she was His first and best disciple from the moment of the Incarnation!  
If we were to draw a straight line representing God's will, and a line on top of that line representing Mary's will, we would still see only one line. Mary alone, in all of  God's creation, obeyed the will of God perfectly!
On the other hand, if we draw a line representing our will at best it will be a squiggly line on top of the straight line representing God's will.
We are fighting an interior battle every day to choose to do the will of God made clear to us in the commandments, the teachings of His holy Church, and the events and circumstances of our daily lives, as opposed to doing what we will!
Again, Jesus makes it clear! We must love God more than others, more even than ourselves, and show it by our obedience to His will, no matter the cost! "Passion for your house consumes me, the insults of those who insult you fall on me!" (Ps 69:9) 
In the practice of our faith, we don't want to be disrespectful to our parents or disregard family members and friends. However, if regard for others interferes with our worship of God, for example attending Sunday Mass… or causes us to disregard God's call to our vocation… or causes us to break the commandments or the teachings of His holy Church… we must obey God and ignore others.
Conversely, we must not say or do anything to prevent family members or friends from loving God and obeying His will as it is expressed in their lives.
Peter denied Jesus three times, and three times Jesus asked him, "Simon, son of John, do you love me more than these?" These? The other apostles, one of whom was his brother, and the others who had become like brothers to him. Three times Peter answered, "Yes, Lord, you know that I love you." And Jesus rewarded him with the awesome vocation of feeding and tending His sheep as the first Pope!
Everyday Jesus asks us that same question, "Do you love me more than these?" Do I love you, Lord, more than anyone else in my life?
We answer Yes every time we go to Confession… allowing Jesus to shine the light of truth in our soul, acknowledging and repenting of our sins, receiving His mercy and forgiveness, renewing our strength to fight the temptations that are sure to come, as well as avoid the near occasions of sin.
We answer Yes each time we receive Jesus fervently in Holy Communion… as we beg to love Him more every day and love others with His Heart of love and mercy.
We answer Yes when we spend time with Jesus in our holy hour… finding rest from our burdens and strength to carry on.
We answer Yes when we are faithful to our vocation in life and to our mission of spreading the good news of the Gospel, inviting others to a personal encounter with the love and mercy of Jesus Christ!
We answer Yes when we remember that Jesus has been merciful to us and extend His mercy and forgiveness to others who have hurt us or injured us in some way, especially by praying for them.
We answer Yes when we extend our hands in compassion to the poor and the suffering – those who most resemble Jesus.
We answer Yes when we do what Christ and His Church tell us is right, even if it costs us our possessions, our friends, even our lives!
Let us beg Mary our Mother for her prayers and grace to say: Yes, Lord, I love you, and I will strive to show my love for you by choosing to do your will, not mine, with every decision I make each day!  
There is one final meditation for us to reflect on. Today Jesus said, "Whoever does the will of my heavenly Father is my brother, and sister, and mother."
Jesus also said, "Truly I tell you, unless you change and become like little children, you will never enter the kingdom of heaven." (Mt. 18:3)
What does that look like? It is not about what we lose, it is about what we gain!
Only in our nothingness can God reveal our allness …   by Caryll Houselander (+1954)
To accept oneself as one is, to accept life as it is; these are the two basic elements of childhood's simplicity and humility. But it is one thing to say this and another to do it. What is involved?
First of all, it involves the abandoning of all unreality in ourselves. But even granted that we have the courage to face ourselves and to root out every trace of pretense, how shall we then tolerate the emptiness, the insignificance, which we built up our elaborate pretense to cover?
The answer is simple. If we are afraid to know ourselves for what we are, it is because we have not the least idea of what that is. It is because we have not the least idea of the miracle of life-giving love that we are! There is no pretense that can approach the wonder of the truth about us, no unreality that comes anywhere near the reality.
We are "other Christs." Our destiny is to live the Christ-life: to bring Christ's life into the world; to increase Christ's love in the world; to give Christ's peace to the world.
The acceptance of life as it is must teach us trust and humility. This is because every real experience of life is an experience of God. Every experience of God makes us realize our littleness, our need, our nothingness, but at the same time the miracle of Christ in us.
Not only are we God's creatures – which is in itself a guarantee of His eternal creating love – but we are also His Christ, His only Son, the sole object of His whole love. These two facts balance the scales of trust: our nothingness and our allness!

Saint Lawrence of Brindisi
Pray for us!