OUR LADY OF SORROWS: MARY'S 7 SORROWS– short reflection.
PROPHECY OF SIMEON….  "A sword will pierce your heart so that the thoughts of many will be lain bare….   By devotion to Mary she gives us the courage to recognize our sins and to confess them to the priest and receive pardon. Marian sanctuaries are "Spiritual clinics of healing" from sin.
FLIGHT INTO EGYPT.  Mary helps us through her prayers to take flight from any near occasion of sin— be it a person, place or thing…
FINDING IN THE TEMPLE.   May Mary grant us the grace to never lose Jesus in the temple of our hearts through mortal sin. If, we do, may she help us to return to Jesus through repentance and confession.
JESUS MEETS MARY ON THE WAY OF THE CROSS.   In our tribulations and trials, Mary is there to support us.
JESUS DIES ON THE CROSS….MARY CONTEMPLATES.   May Mary attain for us the grace of a holy and happy death.   "Holy Mary Mother of God, pray for us sinners now and at the hour of our death. Amen
JESUS' DEAD BODY IS LAIN IN THE ARMS OF MARY.   May Mary attain for us the grace to receive Jesus in Holy Communion with faith, fervour and frequency!  (The 3 "F's)
JESUS TAKEN FROM THE ARMS OF MARY AND BURIED. May we die in the arms of Mary, so that her arms like an spiritual elevator, will take us to the Sacred Heart of her Son in heaven.
Those who meditate upon the sorrows of Mary and try to console her sorrowful and Immaculate Heart will receive many special graces.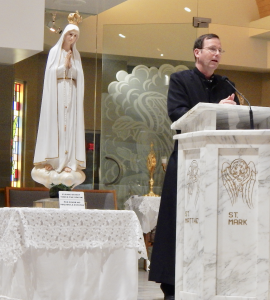 Father Ed Broom, OMV, is Associate Pastor of St. Peter Chanel Church in Hawaiian Gardens, California. He is a member of the Oblates of the Virgin Mary and was ordained by Saint John Paul II on May 25, 1986. Fr. Ed teaches Catholic Ignatian Marian Spirituality through articles, podcasts, a radio show, retreats and spiritual direction.