ROSARY.   The family that prays together stays together.  (Fr Patrick Peyton)
ANGELUS.  Pray the Angelus three times a day: morning, noon, and evening. A great way to sanctify the day through this beautiful Marian prayer.
SCAPULAR.  Wear the garment of Mary; stay under her mantle of protection.
GOLDEN HAIL MARY.  Pray the "Hail Mary" slowly and reflectively.
MARIAN FEAST DAYS.  Get to know them
COMMUNION. Receive Holy Communion on Mary's feast days to honor her and her Son, Jesus the Lord.
TRUE DEVOTION TO MARY.  Consecrate your whole being to Jesus through the Immaculate Heart of Mary
IMITATION.  Strive always to  imitate Jesus and Mary– the best way to live.
TEMPTATIONS.  Oblate motto;  "Maria cogita, Maria invoca"  (Latin)  Think of Mary and invoke Mary.
DEATH.  Like Jesus and the saints to die in the arms of Mary.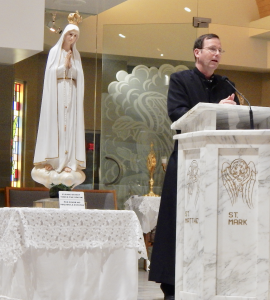 Father Ed Broom, OMV, is Associate Pastor of St. Peter Chanel Church in Hawaiian Gardens, California. He is a member of the Oblates of the Virgin Mary and was ordained by Saint John Paul II on May 25, 1986. Fr. Ed teaches Catholic Ignatian Marian Spirituality through articles, podcasts, a radio show, retreats and spiritual direction.