BIBLE PASSAGES:   Forgive us our trespasses as we forgive those who trespass against us….   Be merciful as your Heavenly Father is merciful……Offering….Leave it first and be reconciled….  "Father, forgive them for they know not what they are doing…. How many times must I forgive, 70 times?  No 70 times 7 times…..
BEG FOR GRACE.   In the Our Father we beg for the grace to forgive
IMMEDIATELY.   When hurt, try to forgive right away.   "Do not let the sun go down on your anger."  (O.T.)
ANGER PERSISTS?   Make a novena of  Chaplets of Divine Mercy for the person that hurt you.
Still????   CONTEMPLATE THE CRUCIFIX  and say,  "Father forgive him X…name  for he knows what he is doing….
HUMILITY.  Call to mind your worse sin and remember ho God forgave you that sin and compare that sin to how you were offended…No comparison….
AGERE CONTRA… Ignatius of Loyola's rule….Do the opposite and  be kind to this person…
70 times 7. Remember the many times that God has forgiven you…
MARY AND MERCY.  Call to mind Our Lady of mercy who forgave those who were crucifying her Son and she had no bitterness. Our Lady of mercy pray for me…
HEAVEN.  In heaven are the merciful.  Remember the beatitude:  "Blessed are the merciful, for they will attain mercy."

With these 10 steps we will be able to practice mercy through forgiveness!!!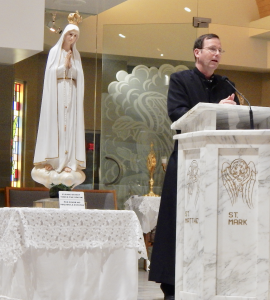 Father Ed Broom, OMV, is Associate Pastor of St. Peter Chanel Church in Hawaiian Gardens, California. He is a member of the Oblates of the Virgin Mary and was ordained by Saint John Paul II on May 25, 1986. Fr. Ed teaches Catholic Ignatian Marian Spirituality through articles, podcasts, a radio show, retreats and spiritual direction.