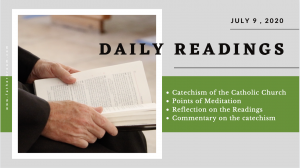 July 9 2020
Thursday of the Fourteenth Week in Ordinary Time
Reading 1 HOS 11:1-4, 8-9
Thus says the LORD:
When Israel was a child I loved him,
out of Egypt I called my son.
The more I called them,
the farther they went from me,
Sacrificing to the Baals
and burning incense to idols.
Yet it was I who taught Ephraim to walk,
who took them in my arms;
I drew them with human cords,
with bands of love;
I fostered them like one
who raises an infant to his cheeks;
Yet, though I stooped to feed my child,
they did not know that I was their healer.
My heart is overwhelmed,
my pity is stirred.
I will not give vent to my blazing anger,
I will not destroy Ephraim again;
For I am God and not man,
the Holy One present among you;
I will not let the flames consume you.
Responsorial Psalm 80:2 and 3B, 15-16 
R. (4b) Let us see your face, Lord, and we shall be saved.

O shepherd of Israel, hearken.
From your throne upon the cherubim, shine forth.
Rouse your power.
R. Let us see your face, Lord, and we shall be saved.
Once again, O LORD of hosts,
look down from heaven, and see:
Take care of this vine,
and protect what your right hand has planted,
the son of man whom you yourself made strong.
R. Let us see your face, Lord, and we shall be saved.
Alleluia MK 1:15
R. Alleluia, alleluia.
The Kingdom of God is at hand:
repent and believe in the Gospel.
R. Alleluia, alleluia.
Gospel MT 10:7-15
Jesus said to his Apostles:
"As you go, make this proclamation:
'The Kingdom of heaven is at hand.'
Cure the sick, raise the dead,
cleanse the lepers, drive out demons.
Without cost you have received; without cost you are to give.
Do not take gold or silver or copper for your belts;
no sack for the journey, or a second tunic,
or sandals, or walking stick.
The laborer deserves his keep.
Whatever town or village you enter, look for a worthy person in it,
and stay there until you leave.
As you enter a house, wish it peace.
If the house is worthy,
let your peace come upon it;
if not, let your peace return to you.
Whoever will not receive you or listen to your wordsC
go outside that house or town and shake the dust from your feet.
Amen, I say to you, it will be more tolerable
for the land of Sodom and Gomorrah on the day of judgment
than for that town."


Catechism of the Catholic Church
37 In the historical conditions in which he finds himself, however, man experiences many difficulties in coming to know God by the light of reason alone:
Though human reason is, strictly speaking, truly capable by its own natural power and light of attaining to a true and certain knowledge of the one personal God, who watches over and controls the world by his providence, and of the natural law written in our hearts by the Creator; yet there are many obstacles which prevent reason from the effective and fruitful use of this inborn faculty. For the truths that concern the relations between God and man wholly transcend the visible order of things, and, if they are translated into human action and influence it, they call for self-surrender and abnegation. the human mind, in its turn, is hampered in the attaining of such truths, not only by the impact of the senses and the imagination, but also by disordered appetites which are the consequences of original sin. So it happens that men in such matters easily persuade themselves that what they would not like to be true is false or at least doubtful.

"For greater things you were born." (Ven. Mother Luisita)

THURSDAY, JULY 97H    Mt. 10: 7-15   "As you go, make this proclamation: 'The Kingdom of heaven is at hand.'"
Jesus sends us out as He sent out His disciples to proclaim: "The Kingdom of heaven is at hand." How can we witness to Christ? St. Ignatius of Loyola shows us the way. By knowing Jesus more intimately, loving Jesus more ardently, following Jesus more closely!
Knowing Jesus more intimately… "Jesus said to them, 'Very truly I tell you, unless you eat the flesh of the Son of Man and drink his blood, you have no life in you. Whoever eats my flesh and drinks my blood has eternal life, and I will raise them up on the last day. For my flesh is real food and my blood is real drink. Whoever eats my flesh and drinks my blood remains in me, and I in them."  (Jn. 6:53-56)
Our first witness! We keep Jesus ever before our eyes! We are people who see the Face of God! When the priest elevates Jesus in the most Holy Eucharist after consecration! When we receive Jesus in Holy Communion! When we adore and converse with the Eucharistic Face of Jesus in the Monstrance during our Holy Hour – our Hour of Power!
Loving Jesus more ardently… "If you love me, keep my commands. And I will ask the Father, and he will give you another advocate to help you and be with you forever— the Spirit of truth." (Jn. 14:15-17)
Our second witness! Loving Jesus through the Heart of Mary by being obedient to the inspirations of the Holy Spirit. "Holy Spirit come to us, come to us through the Heart of Mary!" When do we receive these inspirations? In our Holy Hour and during the course of our day. Mary and the Holy Spirit show us when, where, and how to love Jesus more ardently by going out of ourselves to meet the needs of others! "We cannot say that we love Jesus only in the Eucharist—naturally, we want to put that love into action. We cannot separate the Eucharist and the poor." (St. Mother Teresa of Calcutta)
Following Jesus more closely… "Then Jesus told his disciples, 'If anyone would come after me, let him deny himself and take up his cross and follow me.'" (Mt 16: 24)
Our third witness! Following Jesus always leads us to the cross! We do not have to go looking for the cross, it finds us. And not just one cross, but many crosses in the course of our lifetime. Each time we have a choice to take up our cross and follow Christ or not. Let us follow in the footsteps of those who followed Christ before us!  
St. John of the Cross…
"I saw your cross, O Christ, and I read there the song of your love."
Prayer: My Jesus, may the cross I bear today be my song of love for you!
St. Padre Pio of Pietrelcina…
"We must keep the eye of faith fixed on Jesus Christ who climbs the hill of Calvary loaded with his Cross, and as he toils painfully up the steep slope of Golgotha we should see him followed by an immense throng of souls carrying their own crosses and treading the same path.
Oh, what a beautiful sight this is. Let us fix our mental gaze firmly on it. We see close behind Jesus our most holy Mother, who follows him perfectly, loaded with her own cross. Then comes the Apostles, Martyrs, Doctors, Virgins and Confessors. . .
Jesus himself, despite all our unworthiness, has associated us with this beautiful company. We must make every effort to merge ourselves increasingly in these ranks and hasten with them along the road to Calvary. We should look to the end of the journey and not separate ourselves from this fine company; we must refuse to follow any other way than the one they tread."
Prayer: Mary, my Mother, keep me close beside you carrying my cross up the steep hill of Calvary in this great company of Apostles, Martyrs, and all the Saints!
St. Faustina Kowalska (Diary, 153)
"I saw two roads. One was broad, covered with sand and flowers, full of joy, music and all sorts of pleasures. People were walking along it, dancing and enjoying themselves. They reached the end without realizing it. And at the end of the road there was a horrible precipice; that is, the abyss of hell. The souls fell blindly into it; as they walked, so they fell. And their number was so great that it was impossible to count them.
And I saw the other road, or rather, a path, for it was narrow and strewn with thorns and rocks; and the people who walked along it had tears in their eyes, and all kinds of suffering befell them. Some fell down upon the rocks, but stood up immediately and went on. At the end of the road there was a magnificent garden filled with all sorts of happiness and all these souls entered there. At the very first instant they forgot all their sufferings."

Prayer: My Sweet Jesus, as I climb this path narrow and strewn with thorns and rocks with Mary, my Mother beside me, help me keep my eyes fixed on your eyes beckoning me from the cross, until in my weakness and my love you draw me to yourself, and there is one Christ loving Himself.