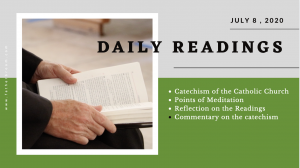 July 8 2020
Wednesday of the Fourteenth Week in Ordinary Time
Reading 1 HOS 10:1-3, 7-8, 12 
Israel is a luxuriant vine
whose fruit matches its growth.
The more abundant his fruit,
the more altars he built;
The more productive his land,
the more sacred pillars he set up.
Their heart is false,
now they pay for their guilt;
God shall break down their altars
and destroy their sacred pillars.
If they would say,
"We have no king"—
Since they do not fear the LORD,
what can the king do for them?
The king of Samaria shall disappear,
like foam upon the waters.
The high places of Aven shall be destroyed,
the sin of Israel;
thorns and thistles shall overgrow their altars.
Then they shall cry out to the mountains, "Cover us!"
and to the hills, "Fall upon us!"
"Sow for yourselves justice,
reap the fruit of piety;
break up for yourselves a new field,
for it is time to seek the LORD,
till he come and rain down justice upon you."
Responsorial Psalm 105: 2-3, 4-5, 6-7
R. (4b) Seek always the face of the Lord.
or:
R. Alleluia.
Sing to him, sing his praise,
proclaim all his wondrous deeds.
Glory in his holy name;
rejoice, O hearts that seek the LORD!
R. Seek always the face of the Lord.
or:
R. Alleluia.
Look to the LORD in his strength;
seek to serve him constantly.
Recall the wondrous deeds that he has wrought,
his portents, and the judgments he has uttered.
R. Seek always the face of the Lord.
or:
R. Alleluia.
You descendants of Abraham, his servants,
sons of Jacob, his chosen ones!
He, the LORD, is our God;
throughout the earth his judgments prevail.
R. Seek always the face of the Lord.
or:
R. Alleluia.
Alleluia MK 1:15
R. Alleluia, alleluia.
The Kingdom of God is at hand:
repent and believe in the Gospel.
R. Alleluia, alleluia.
Gospel MT 10: 1-7 
Jesus summoned his Twelve disciples
and gave them authority over unclean spirits to drive them out
and to cure every disease and every illness.
The names of the Twelve Apostles are these:
first, Simon called Peter, and his brother Andrew;
James, the son of Zebedee, and his brother John;
Philip and Bartholomew,
Thomas and Matthew the tax collector;
James, the son of Alphaeus, and Thaddeus;
Simon the Cananean, and Judas Iscariot
who betrayed Jesus.
Jesus sent out these Twelve after instructing them thus,
"Do not go into pagan territory or enter a Samaritan town.
Go rather to the lost sheep of the house of Israel.
As you go, make this proclamation: 'The Kingdom of heaven is at hand.'"


Catechism of the Catholic Church
III. The Knowledge of God According to the Church
36 "Our holy mother, the Church, holds and teaches that God, the first principle and last end of all things, can be known with certainty from the created world by the natural light of human reason."  Without this capacity, man would not be able to welcome God's revelation. Man has this capacity because he is created "in the image of God".
WEDNESDAY, JULY 87H    Mt. 10: 1-7   Jesus sent out the twelve, after instructing them. "As you go, make this proclamation: 'The Kingdom of heaven is at hand.'"
Jesus sent the twelve, and He sends us to proclaim, "The Kingdom of heaven is at hand!"
Ven. Archbishop Fulton Sheen gives us this dynamic for the Missionary Mandate. Jesus says, "First come; then go!" First come to Christ in our daily holy hour that Sheen calls our Hour of Power, then go out to the world to proclaim Christ!
We cannot give what we do not have! How can we help others to know Christ, if we do not have intimate knowledge of Him ourselves?

 The Missionary Mandate…   Reflection by Father Tadeusz Djczer
Faith in a subjective sense, as the relation to the person of God, is not only sharing in God's life, but also an existential adherence to Christ as the one Lord and one Love. This implies that man makes a choice, gearing his will toward Christ as the final goal and the greatest value.
Adherence to Christ is our answer to His call and to His looking upon us with complete love. The answer will always be marked by a trait of adventure and also of risk. Jesus wants you to adhere to Him without asking for details and without asking what the consequences of your choice will be, without questioning the future.
He wants you to answer as Mary did, YES, expressing in this way your complete abandonment to God. The essence of trustful abandonment to Jesus and of adhering to Him, lies in accepting the unknown which remains in darkness, and therefore demands faith.
Adherence to Christ is the beginning of love, which will be brought about through the growth of unity of our will with the will of Christ. This is the beginning of communion between a person and God.
Our adherence to Christ is not possible without detaching ourselves from that which can enslave us. The Apostles, in order to follow Christ, had to leave everything. Choosing Christ as the greatest value also assumes our consent that He, Himself will form us.
End of Reflection
Father Tadeusz Djczer (+2009) was a renowned Polish priest and spiritual writer.
The Evangelization work of bringing others to Christ requires our adherence to Christ. This begins interiorly, with only subtle exterior manifestations. It may be felt by others without ever being recognized for what it is – a total indifference to anything that is not part of who Christ is and what Christ desires to give us, in order to give to others.
It can't be explained, it can only be experienced, for it is an intimate communication and communion between ourselves and Christ that first takes hold, then takes time to grow and deepen, until we possess the One who first possessed us!
However, adherence to Christ can also evolve by giving ourselves totally to Mary Immaculate! This was the pathway for the Evangelization work of bringing others to Christ of St. Maximilian Kolbe and The Militia of the Immaculata (MI).
The Militia of the Immaculata (MI) is a worldwide evangelization movement founded by St. Maximilian Kolbe in 1917 that encourages total consecration to the Blessed Virgin Mary as a means of spiritual renewal for individuals and society. The MI movement is open to all Catholics over 7 years old. It employs prayer as the main tool in the spiritual battle with evil. Members of the MI also immerse themselves in apostolic initiatives throughout society, either individually or in groups, to deepen and spread the knowledge of the Gospel and our Catholic Faith.
To this purpose, Kolbe left us this compelling exhortation on surrendering ourselves totally to Mary Immaculate.
The Work of the Immaculate …  by St. Maximilian Kolbe
Do not ever be troubled, do not ever be afraid, you have nothing to fear. Isn't the Immaculate aware of everything? If this were not true, we would be in great trouble indeed. No one can hurt us without God's permission, or even without the Immaculate's permission. Therefore, everything is in her maternal hands. Consequently, let us just allow her to lead us ahead every day, every minute a little more. This is all our philosophy. And if we are always more ready to be her instruments, then even the missionary activity, the conquest of the souls to Jesus through her shall be more effective. Work, suffering, and mainly prayer shall bear fruit in abundance.
Besides, let us not fret about doing more or acting faster than she wishes, because if we act according to her will, we shall surely act in the best and fastest of ways. Only at God's judgment shall we know how many mysteries of grace took place around us and how many people were saved thanks to us, without our having ever imagined it. Therefore, we still stress the importance of our belonging to her more totally every day, every instant, allowing her to lead us always more perfectly and serenely, always increasing our confidence in her, through all the things she allows to happen, both in us and around us, and in relation to us, so that we may thus become an ever more perfect instrument in her Immaculate hands. 
Of course, we have to be on the watch, because often our self-respect, our ego shall revolt. Sometimes, we may feel almost overwhelmed by all sorts of difficulties, temptations, and misfortunes. However, if the roots keep growing deeper into the earth and humility is rooted deeply in us, to make us rely every day less on ourselves alone, then, through the Immaculate, whatever happens shall only mean for us a growth in merits. Still, ordeals are necessary, and they shall certainly cross our path, since the gold of love must be purified in the fire of affliction. In fact, suffering is the nourishment that strengthens love. 
End of Reflection

Maximilian Kolbe (+1941) was a Franciscan priest who promoted devotion and Consecration to Mary Immaculate. He died in German death camp of Auschwitz, offering his life in exchange for the life of a family man. He was canonized in 1982 by Pope John Paul II, who declared him a "Martyr of Charity."