Podcast: Play in new window | Download
Subscribe: Apple Podcasts | Android | RSS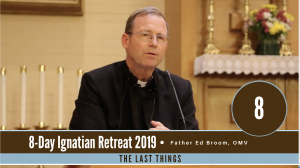 In the context of the Spiritual Exercises, St Ignatius invites his retreatants to meditate upon the Last things; however these last things should be among the most important things in our spiritual life.
In Spiritual Theology the technical word is "Eschatology" which means the study of the "Last Things." Some authors write about the "four" last things; but we would like to add a fifth.
What then are these "five" last things? Here they are for your reflection and meditation:  Death, Judgment, Heaven, Hell and, yes, Purgatory. There we have the big four! Let us give a brief reflection in these last things which are indeed very important things!