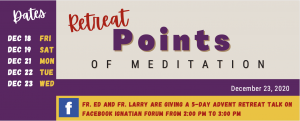 ADDITIONAL BONUS  DAY 6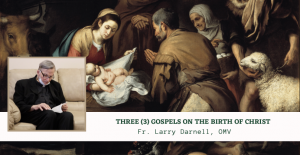 Three (3) Gospels on the Birth of Christ
 l. A Reading from the Holy Gospel of St. Luke 2:1-4
In those days a decree went out from Caesar Augustus
that the whole world should be enrolled.
This was the first enrollment, when Quirinius was governor of Syria.
So all went to be enrolled, each to his own town.
And Joseph too went up from Galilee from the town of Nazareth
to Judea, to the city of David that is called Bethlehem,
because he was of the house and family of David,
to be enrolled with Mary, his betrothed, who was with child.
While they were there, the time came for her to have her child,
and she gave birth to her firstborn son.
She wrapped him in swaddling clothes and laid him in a manger,
because there was no room for them in the inn.
Now there were shepherds in that region living in the fields
and keeping the night watch over their flock.
The angel of the Lord appeared to them
and the glory of the Lord shone around them,
and they were struck with great fear.
The angel said to them,
"Do not be afraid;
for behold, I proclaim to you good news of great joy
that will be for all the people.
For today in the city of David
a savior has been born for you who is Christ and Lord.
And this will be a sign for you:
you will find an infant wrapped in swaddling clothes
and lying in a manger."
And suddenly there was a multitude of the heavenly host
with the angel, praising God and saying:
"Glory to God in the highest
and on earth peace to those on whom his favor rests."
ll. Reading from the Holy Gospel of St. Luke 2:15-20
When the angels went away from them to heaven,
the shepherds said to one another, 
"Let us go, then, to Bethlehem
to see this thing that has taken place, 
which the Lord has made known to us."
So they went in haste and found Mary and Joseph, 
and the infant lying in the manger.
When they saw this,
they made known the message
that had been told them about this child.
All who heard it were amazed
by what had been told them by the shepherds.
And Mary kept all these things,
reflecting on them in her heart.
Then the shepherds returned,
glorifying and praising God 
for all they had heard and seen, 
just as it had been told to them.
lll. Reading from the Holy Gospel of St. John 1:1-5, 9-14
 In the beginning was the Word,
and the Word was with God,
and the Word was God.
He was in the beginning with God.
All things came to be through him,
and without him nothing came to be.
What came to be through him was life,
and this life was the light of the human race;
the light shines in the darkness,
and the darkness has not overcome it.
The true light, which enlightens everyone,  
was coming into the world.
He was in the world,
and the world came to be through him,
but the world did not know him.
He came to what was his own,
but his own people did not accept him.
But to those who did accept him
he gave power to become children of God,
to those who believe in his name,
who were born not by natural generation
nor by human choice nor by a man's decision but of God.
And the Word became flesh
and made his dwelling among us,
and we saw his glory,
the glory as of the Father's only Son,
full of grace and truth.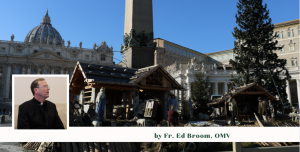 "For greater things you were born." (Ven. Mother Luisita)
THURSDAY, DECEMBER 24th Lk. 1: 67-79   "In the tender compassion of our God, the dawn from on high shall break upon us, to shine on those who dwell in darkness and the shadow of death, and to guide our feet into the way of peace."
Part 1: Christmas Eve… Reflection by Fr. Antonin Sertillanges, O.P.
Part 2: INSPIRING WORDS OF MARY MOST HOLY by Fr. Ed Broom, OMV
PART ONE: Christmas Eve… Reflection by Fr. Antonin Sertillanges, O.P. (+1948)
 So there are Mary and Joseph without a lodging, wandering through the streets of Bethlehem, urged on by the fall of night and by the time – which is drawing near. It is not difficult to imagine Joseph's anxiety; who can describe his earnestness and his distress? It was so unexpected, this reception, and so cruel…
As for Mary, the touching preparations mothers make for the birth of their babies should give us some idea of how it must have hurt her. Yet not even the shadow of anxiety could skim the surface of her soul. 
She bore within her the Ordainer of all things, Him who knows all, who can do all. To be worried in His regard would have been childish. As for herself, what did it matter to her? Did she not possess all things, having such a treasure?
When she considered the lot that had been given her, could she envy mothers who were wealthy or comfortable? To suffer, with Jesus under her heart, was a twofold joy to her: it meant sharing the role of the Savior before He entered upon it Himself; it meant carrying the Cross, while carrying Him who would be stretched upon it…
So she went through the winding lanes of Bethlehem without fear, without anxiety. She was waiting upon the will of God; and God poured into her soul, drop by drop, His tranquility, greater far than that of the night rising from the plain and slowly enveloping the lovely slope of the hill.
Meanwhile the ineffable exchange went on: Mary giving to Jesus her blood, her life, the pulsations of her heart; Jesus giving to Mary light, strength, love, patience, and the peace of one possessing God.

"…the peace of one possessing God." This is the peace we are all called to possess. Let us strive to imitate Mary. What if we pray after every Holy Communion: "I bear within me the Ordainer of all things, Him who knows all, who can do all. To worry about anything would be childish. I possess all things possessing such a treasure. Considering whom I have within me, how can I envy others? To suffer with Jesus within me is a twofold joy: sharing the role of my Savior, carrying the Cross with Him, who was stretched upon it for me." As we pray, so shall we believe.
PART TWO: INSPIRING WORDS OF MARY MOST HOLY by Fr. Ed Broom, OMV
"Out of the abundance of the heart, the mouth speaks." (Lk. 6:45). These words were uttered by Jesus who is the Incarnate Word, the Logos, and the greatest of all the Teachers the world has ever known! The essential message in the interpretation of this short sentence is the following: we can get to know who a person is by the words that issue from their mouth, because those words really issue forth from the center of their being—from their very heart. Ugly, profane, indecent, uncouth words all flow from a person's bad heart. On the contrary, noble, profound, pure, enlightening, and holy words emanate from a person whose heart is pure, whose heart is holy.
THE WORDS OF MARY: WORDS OF HOLINESS, WISDOM, AND INSPIRATION. 
The four Gospels mostly recount the words, actions, and gestures of Our Lord and Savior, Jesus Christ. It should be an ardent pursuit of our lifetime to come to know, love, and put into practice the words of Jesus in the Gospels which flow from the life of Jesus who is the Way, the Truth, and the Life! Jesus, the Eternal Word, is the way to the Father and the way to eternal life. Also of great importance are the words that we have of the Blessed Virgin Mary in Sacred Scripture.
THE SEVEN WORDS/SAYINGS OF THE BLESSED VIRGIN MARY.  The words (or sayings) that we have of the Blessed Virgin Mary in the Gospels are not many, actually no more than seven. Indeed, one of the words we do not know exactly what it was but we can conjecture. Nonetheless, the few words that we have of Mary most holy are words of great depth, holiness, and wisdom—words that we should get to know, love, memorize, and incorporate into our daily lives.
FIRST WORD OF MARY: "How will this be, since I am a virgin?" (Lk. 1:34) The context of this first Word of Mary is the first Joyful Mystery of the Annunciation. Mary is approached by the Archangel Gabriel who announces to her the Good News that she is to be the Mother of God. Having made of a vow of virginity, Mary asks a clarifying question: "How will this be, since I am a virgin?" God's messenger states that the conception will be the work of the Holy Spirit, meaning Mary will remain a virgin. He also reveals that her elderly kinswoman, Elizabeth, is already in her sixth month, for nothing is impossible for God. A clear message for us today is the following: we should be faithful to our promises and try to live a life of great innocence and purity. This can be done through the example and prayers of the Blessed Virgin Mary!
SECOND WORD OF MARY: "Behold, I am the Handmaid of the Lord; let it be done to me according to your Word." (Lk. 1:38) And the Word became flesh and dwelt among us! This second Word of Mary, known in Latin as her FIAT, resulted in the Incarnation of the Second Person of the Blessed Trinity in the most pure womb of the Virgin Mary. We can derive many profound messages from Mary's Fiat or Yes. First, Mary teaches us that true joy can only come from imitating her in saying YES to God in all times, places, and circumstances. Second, we owe eternal gratitude to Mary because as a result of her YES, Jesus came into the world as our Savior. In other words, we can be saved and go to heaven because of the YES of Mary in accepting Jesus into her womb, into her life, and into the life of the world, so as to save us from eternal sorrow, sadness, and separation from God. We owe enormous GRATITUDE to Mary for her YES!!!
THIRD WORD OF MARY: MARY'S GREETING TO ELIZABETH.  This third Word of Mary can be found in the context of the Visitation of Mary to her cousin, Saint Elizabeth. The Biblical text simply states that Mary greeted Elizabeth. (Lk. 1:40) We can surmise that the greeting consisted of the typical form of greeting of the Jewish people 2000 years ago and that would be SHALOM—meaning: Peace be with you! How does this word of Mary touch us? Hopefully in many positive ways. First, we should be kind enough to always greet other people, especially family members and friends, but even those whom we do not particularly like. Second, we should desire and pray to live in peace with God, in peace within our own hearts, and in peace with others. Third, we should desire that others experience the fruit of the Holy Spirit which is Peace. One of the beautiful titles of Mary is QUEEN OF PEACE!!!
 FOURTH WORD OF MARY: THE MAGNIFICAT OF MARY.  These words are a most sublime, profound, and inspiring hymn of praise that burst forth from the Immaculate Heart of Mary during her conversation with Saint Elizabeth. Mary's words are prayed by the Church every evening in Vespers or Evening prayer:
THE MAGNIFICAT… The Prayer of Mary (Lk. 1:46-55)
My soul proclaims the greatness of the Lord, 
my spirit rejoices in God my Savior
for he has looked with favor on his lowly servant. 
From this day all generations will call me blessed: 
the Almighty has done great things for me, 
and holy is his Name.
He has mercy on those who fear him
in every generation. 
He has shown the strength of his arm, 
he has scattered the proud in their conceit.
He has cast down the mighty from their thrones, 
and has lifted up the lowly. 
He has filled the hungry with good things, 
and the rich he has sent away empty.
He has come to the help of his servant Israel
for he remembered his promise of mercy, 
the promise he made to our fathers, 
to Abraham and his children forever.
Mary teaches us immense lessons of wisdom in her MAGNIFICAT.  First, Mary teaches us the great importance of prayer. Second, the importance of fearing and adoring God in His greatness. Third, Mary teaches us humility and reliance on God as our strength and our sustenance. Finally, Mary most Holy, in this prayer, can teach us how to worship Jesus after Holy Communion in Mass. Saint Louis de Montfort in True Devotion to Mary suggests that we pray Mary's Magnificat in thanksgiving after receiving Jesus into our hearts in Holy Communion! May Mary's praise become our praise!
FIFTH WORD OF MARY: JESUS FOUND IN THE TEMPLE.  The fifth Word of Mary can be found in the context of the fifth Joyful Mystery, the Finding of the Child Jesus in the Temple after three days of sorrowful search, anxiety, and anguish. Mary says to the 12-year-old Child Jesus: "Son, why have you done this to us? Your father and I have been looking for you in great anxiety." (Lk. 2:48) Once again, there is a treasure-house of wisdom contained in this short sentence, in these few words of the Blessed Virgin Mary. First, Mary teaches us to be constantly in search of Jesus. Second, Mary wants us to discover Jesus in the depths of our heart. Third, Mary teaches us that if we have lost Jesus in the depths of our heart due to serious sin, we should bring Him back through sincere sorrow and the Sacrament of Confession. Lastly, we should discover who Jesus is by mediating often on the Word of God.
SIXTH WORD OF MARY: WEDDING FEAST OF CANA.  The sixth word of Mary can be found in the context of the second Luminous Mystery—The Wedding Feast of Cana. (Jn. 2:1-12) Mary notices a serious and embarrassing problem for the newly married couple: the wine has run out! Mary says to Jesus: "They have no wine." (Jn. 2:3) Even though no more than four words, there is much depth and matter to meditate upon in these words of Mary at the Wedding Feast of Cana. First, Mary's eyes and Immaculate Heart are always open and attentive to our problems and our needs. Second, Mary teaches us to turn and lift up our eyes to Jesus. Third, Mary cares for all, but especially those with problems. Fourth, Mary wants to bless Marriage and the family which today especially are going through many crises and problems.
SEVENTH WORD OF MARY: WEDDING FEAST OF CANA.  Aware of the shortage of wine and of the presence and power of Jesus the Lord, Mary says these few words as she turns to the servers: "Do whatever he tells you." (Jn. 2:5) Once again, these words of the Blessed Virgin Mary, which are the last recorded in the Gospels, are jam-packed with infinite wisdom for all those who have a mind and heart open to God. First message, Mary trustingly turns to Jesus; she wants us always to turn to Jesus with trust. Second, Mary is keenly aware of the problems that we have in our lives. Third, Mary ardently desires to help us with our problems. Fourth, Mary can help our water be transformed into wine—that is to say, through Mary's intercession our problems can be resolved. Fifth, Mary is the Mediatrix of all graces—meaning all the graces that come to us indeed come from God, but through the intercession of Mary! Sixth and last, these last words of Mary might be considered the best advice in the world—do whatever Jesus wants and asks of us always!!! In this is our peace.
Copyright 2020 Oblates of the Virgin Mary
St. Peter Chanel Church, Hawaiian Gardens, CA