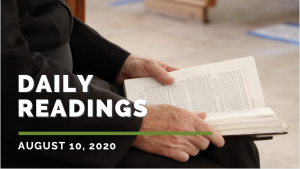 August 10, 2020
Feast of Saint Lawrence, Deacon and Martyr
Reading 1 2 COR 9:6-10
Brothers and sisters:
Whoever sows sparingly will also reap sparingly,
and whoever sows bountifully will also reap bountifully.
Each must do as already determined, without sadness or compulsion,
for God loves a cheerful giver.
Moreover, God is able to make every grace abundant for you,
so that in all things, always having all you need,
you may have an abundance for every good work.
As it is written:
He scatters abroad, he gives to the poor;
his righteousness endures forever.
The one who supplies seed to the sower and bread for food
will supply and multiply your seed
and increase the harvest of your righteousness.
Responsorial Psalm PS 112:1-2, 5-6,7-8, 9
R. (5) Blessed the man who is gracious and lends to those in need.
Blessed the man who fears the LORD,who greatly delights in his commands.His posterity shall be mighty upon the earth;the upright generation shall be blessed.  R. 
Well for the man who is gracious and lends,
who conducts his affairs with justice;
He shall never be moved;
the just one shall be in everlasting remembrance.  R. 
An evil report he shall not fear;
his heart is firm, trusting in the LORD.
His heart is steadfast; he shall not fear
till he looks down upon his foes.  R. 
Lavishly he gives to the poor, 
his generosity shall endure forever;
his horn shall be exalted in glory.  R. 
Alleluia JN 8:12 
R. Alleluia, alleluia.
Whoever follows me will not walk in darkness
but will have the light of life, says the Lord.
R. Alleluia, alleluia.
Gospel JN 12:24-26
Jesus said to his disciples:"Amen, amen, I say to you,unless a grain of wheat falls to the ground and dies,it remains just a grain of wheat;but if it dies, it produces much fruit.Whoever loves his life loses it,and whoever hates his life in this worldwill preserve it for eternal life.Whoever serves me must follow me,and where I am, there also will my servant be.The Father will honor whoever serves me."
Scripture texts in this work are taken from the New American Bible, revised edition © 2010, 1991, 1986, 1970 Confraternity of Christian Doctrine, Washington, D.C. and are used by permission of the copyright owner. All Rights Reserved. No part of the New American Bible may be reproduced in any form without permission in writing from the copyright owner.

Catechism of the Catholic Church
69 God has revealed himself to man by gradually communicating his own mystery in deeds and in words.


St. Lawrence Distributing the Treasures of the Church. Bernardo Strozzi. circa 1625.
North Carolina Museum of Art via Google Cultural Institute

"For greater things you were born." (Ven. Mother Luisita)
MONDAY, AUGUST 10th  Jn. 12:24-26 "Unless a grain of wheat falls to the ground and dies, it remains just a grain of wheat; but if it dies, produces much fruit."  
Christ was the first grain of wheat to fall to the ground and die so as to produce abundant fruit! We are the fruit of Christ's Passion and death, shedding every drop of His precious Blood for our salvation.
That is why, according to Church teaching, Fridays are a day of voluntary, personal prayer and penance in remembrance of the price Jesus paid for our redemption.
One of the most powerful and efficacious means to show our gratitude in prayer and penance is to actually join Jesus on the cross, and Mary beneath the cross, in their redemptive suffering for the salvation of souls on the Via Dolorosa by praying the Stations of the Cross every Friday. You can do this in your own room.
Jesus commanded us: "Be perfect, therefore, as your heavenly Father is perfect." (Mt. 5:48) Jesus knows we cannot do that without Him; by commanding us to do something we cannot do on our own, He is promising to help us. 
These particular Stations of the Cross assist us in on-gong conversion of heart, mind, body and soul, so as to be a pleasing and fragrant offering to the Lord, and bring great joy to the Sacred Heart of Jesus and Immaculate Heart of Mary!
+ STATIONS OF THE CROSS +  by Father Ed Broom, OMV
The Stations of the Cross is a book of the love of God for each and every one of us. In it we can find all the virtues that we need to practice and to arrive at perfection and to attain eternal life. Let us briefly go through the Stations prayerfully and allow the Spirit of God to move us to love and imitate Jesus.
WE ADORE YOU, O CHRIST, AND WE BLESS YOU, BECAUSE BY YOUR HOLY CROSS YOU HAVE REDEEMED THE WORLD.
I. JESUS IS CONDEMNED TO DEATH
Innocent people today are condemned to death, especially innocent babies in the wombs of their mothers.  Do you defend life?  Have you been absorbed by the "Culture of Death" mentality?
Do you judge and condemn people in your life?  Jesus says, "Judge not lest you yourself be judged."
Is there some of Pontius Pilate in you?  He was a people-pleaser more than a God-pleaser.  Do you do things for the honor and glory of God or for your own honor and glory: vanity and pride?
Pilate was a coward.  Are you willing to speak up and live the truth, despite possible criticism?
Are you a relativist?  "What is the truth?"  Do you humbly abide by all the truths taught by the Catholic Church?
Have you ever been falsely accused?  How did you take it?
Have you ever falsely accused anyone else?
II. JESUS CARRIES HIS CROSS
What is/are your cross/crosses?
Do you recognize them as gifts from God?
How do you carry your cross?
Do you complain about the cross God has given you?
Are you aware that others have crosses, maybe heavier than yours?
Do you unite your cross to the cross of Jesus?
Do you see value in the cross?
Does suffering have value for you and in the eyes of God?
Do you understand the cross is related to the Glory to follow?
Do you run away from the cross?
 III.   JESUS FALLS THE FIRST TIME
When do you fall into sin?
Why do you fall into that sin?
Are you trying not to fall into that sin?
Do you know the root causes of your falls?
IV. JESUS MEETS HIS SORROWFUL MOTHER
Who is Mary for you?
Do you share your crosses with the Blessed Mother?
What do you think went on in the Heart of Mary in this encounter?
Do you have compassion for the suffering people of the world?
Have you ever felt helpless in certain circumstances of your life?
Do you turn to Mary in temptations, struggles and stress?
V. SIMON OF CYRENE HELPS JESUS CARRY THE CROSS
Do you help people carry their crosses?
Are you a Good Samaritan on the highway of life?
Are you a Simon of Cyrene?  Helping others?

Do you make your neighbors' crosses even heavier?  How?
Who is the person God is asking you to help now?
Who has been the Simon/Simons who have entered your life?
Have you thanked God for these many good people God has sent to help you to be where you are now?  Are you grateful?
Do you resist or hold off doing the good God wants you to do?
VI. VERONICA WIPES THE FACE OF JESUS
Do you care about other people?
Are you at times selfish?
Are you aware of the Face of Jesus present in your soul through grace?
Have you disfigured the Face of Jesus in your soul through sin?
Have you crowned Him with thorns in your soul?
Are you afraid to look in the Face of Jesus?  Why?  What have you done?  Peter looked into the eyes of Jesus and began his conversion.
Do you long to see the Face of God in heaven?  Really?  How much?
Do you encourage Infant Baptism so as to have the Face of Jesus in a baby's heart as soon as possible?
Do you try to avoid sin so as to retain the Face of Jesus in your soul?
VII.   JESUS FALLS THE SECOND TIME  
When you fall, do you get up right away?
Do you get discouraged and depressed after your fall?
Do you really trust in the Mercy of God?
Do you believe in the Mercy of God?
Have you made other people fall into sin by your bad example?
Have you made amends to help them to get up?
VIII. THE WOMEN OF JERUSALEM WEEP OVER JESUS    
Have you wept for your sins?
Have you wept for the sins of your children?
Have you wept for the sins of your relatives?
Have you wept for the sins of your nation?
Are your tears crocodile tears or real tears of sorrow and repentance?
What does the beatitude, "Blessed are those who weep, for they shall be consoled" mean to you?
IX. JESUS FALLS THE THIRD TIME
What can you do to avoid the near occasion of sin?
Do you sin when you are tired and frustrated?
How can you better cope with weariness?
Will God always forgive you?
Why do you refuse to get up right away after your fall?
Do you pray for sinners, that they will get up and turn to God for mercy?
Are you concerned for the salvation of the world?
X. JESUS IS STRIPPED OF HIS GARMENTS
Are you aware of the stripping of Jesus as related to the sins against purity?
Are you sorry for your sins against purity?
Have you repented of them?
Are you avoiding bad movies/shows?  Bad magazines?  Bad electronic media?
Are you associating with someone who might place you in danger of sins against purity?
Do you dress modestly at all times?
Do you speak and act with modesty and decency?
What about your speech?
Are you striving for greater purity of heart, mind, body, soul and intention?
What does the beatitude, "Blessed are the pure of heart, for they shall see God." mean to you?
XI. JESUS IS NAILED TO THE CROSS
Try to imagine the nails going through the Hands of Jesus. Nails going through His Feet.
Are you aware that your sins and mine were the nails that pierced the Hands and Feet of Our Lord and Savior Jesus Christ?
Are people nailing Jesus to the cross even today? How?
Are you responsible for the crucifixion of Jesus? How?
What do you think was the greatest pain in the crucifixion of Jesus?
Are there other Jesus' being crucified even today in our world?  Who are these?
 XII. JESUS IS RAISED UPON THE CROSS AND DIES   
Jesus spoke seven times on the cross.  Which "word (phrase)" strikes you most?
Imagine the Blood of Jesus trickling down to the ground.  Do you realize that His Precious Blood was shed for you?
What do you think the sentiments of the Heart of Jesus were as He hung upon the cross?
Can you identify with one of the thieves?
What went on in the heart of the apostle John as he stood beneath the cross?
What about the Magdalene?
What was the attitude of the soldiers who threw dice for Jesus' garments?
What about the crowd?
What do you think happened to the centurion under the cross when he thrust the sword into the side of Jesus?
Can you enter into the Sorrowful Heart of Mary in this moment?  How did she feel?
How would you like to die?  A martyr?  A cancer victim?  Suddenly?
Have you prayed for a happy death?
Would you be ready to meet your maker now?  Why?  Why not?
Why put off conversion when we know not when we are going to die?
XIII. JESUS IS TAKEN DOWN FROM THE CROSS AND PLACED IN THE ARMS OF HIS BLESSED MOTHER  
They took the nails out of the Hands of Jesus.  Can you take those nails out, too?  How?  A good confession?
Do you treat the Body of Jesus with respect in Holy Communion?
How must Mary have felt holding her dead Son in her arms that first Good Friday?
Can you imagine the bruised, bloody, wounded Body of Jesus?
How do you receive Jesus into your heart?
Look at the wounds of Jesus.  Are you wounded?  Do you bring your wounds to Jesus to be healed by His wounds?  He is the Wounded Healer.
Do you take your neighbor down from the cross or keep him on the cross?
What does the saying from Isaiah mean to you, "By His wounds we are healed"?
XIV. JESUS IS LAID IN THE TOMB
Why did Jesus die?
Why was Jesus buried?
You will die and be buried.  What does that mean to you?
Are you really ready to die?
Mortal sin is death.  What does that mean?
What does the phrase, "Bury my sins, O Lord, with You in the tomb" mean?
What went on in the heart of Mary as they buried her Son and they rolled the stone to the tomb?
How do funerals, burials, cemeteries affect you?  Do they speak to you about spiritual realities?
Do you ever meditate on the 4 Last Things: DEATH, JUDGEMENT, HEAVEN AND HELL?  How often?  Add the idea of ETERNITY – forever and ever!
If death is so evident from the news, movies, and everyday life, why do people avoid thinking about death?  Do you avoid thinking about it?
Do you bury your sins in the Infinite Ocean of God's Mercy?
CONCLUSION:  To meditate in depth on the Passion, suffering and death of Jesus is one of the most powerful means to understand the depth, width, height and enormity of the love God has for you and me. NO GREATER LOVE HAS A MAN THAN HE LAY DOWN HIS LIFE FOR HIS FRIENDS. If Jesus loves me so much, what am I willing to do and suffer for Him? Love is measured by the willingness to suffer for the loved one.
As you enter the confessional to confess your sins, do so as if this confession will be your LAST!
As you prepare to receive Holy Communion, do so as if the Communion you are about to receive is your FIRST, your LAST, and your ONLY Communion!
End Stations of the Cross
"Apart from the cross there is no other ladder by which we may get to heaven."  (St. Rose of Lima)
"I have been crucified with Christ and I no longer live, but Christ lives in me and gave Himself for me." (St. Paul: Gal. 2:20)
Copyright 2020 Oblates of the Virgin Mary
St. Peter Chanel Church, Hawaiian Gardens, CA