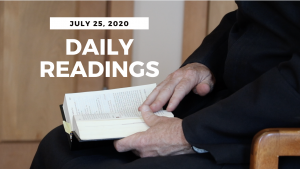 July 25 2020
Feast of Saint James, Apostle
Reading 1 2 COR 4:7-15
Brothers and sisters:
We hold this treasure in earthen vessels,
that the surpassing power may be of God and not from us.
We are afflicted in every way, but not constrained;
perplexed, but not driven to despair;
persecuted, but not abandoned;
struck down, but not destroyed;
always carrying about in the body the dying of Jesus,
so that the life of Jesus may also be manifested in our body.
For we who live are constantly being given up to death
for the sake of Jesus,
so that the life of Jesus may be manifested in our mortal flesh.
So death is at work in us, but life in you.
Since, then, we have the same spirit of faith,
according to what is written, I believed, therefore I spoke,
we too believe and therefore speak,
knowing that the one who raised the Lord Jesus
will raise us also with Jesus
and place us with you in his presence.
Everything indeed is for you,
so that the grace bestowed in abundance on more and more people
may cause the thanksgiving to overflow for the glory of God.
Responsorial Psalm 126: 1-2, 2-3, 4-5, 6
R. (5)  Those who sow in tears shall reap rejoicing.
When the LORD brought back the captives of Zion,
we were like men dreaming.
Then our mouth was filled with laughter,
and our tongue with rejoicing.
R. Those who sow in tears shall reap rejoicing.
Then they said among the nations,
"The LORD has done great things for them."
The LORD has done great things for us;
we are glad indeed.
R. Those who sow in tears shall reap rejoicing.
Restore our fortunes, O LORD,
like the torrents in the southern desert.
Those that sow in tears
shall reap rejoicing.
R. Those who sow in tears shall reap rejoicing.
Although they go forth weeping,
carrying the seed to be sown,
They shall come back rejoicing,
carrying their sheaves.
R. Those who sow in tears shall reap rejoicing.
Alleluia JN 15:16
R. Alleluia, alleluia.
I chose you from the world,
to go and bear fruit that will last, says the Lord.
R. Alleluia, alleluia.
Gospel MT 20:20-28
The mother of the sons of Zebedee approached Jesus with her sons
and did him homage, wishing to ask him for something.
He said to her,
"What do you wish?"
She answered him,
"Command that these two sons of mine sit,
one at your right and the other at your left, in your Kingdom."
Jesus said in reply,
"You do not know what you are asking.
Can you drink the chalice that I am going to drink?"
They said to him, "We can."
He replied,
"My chalice you will indeed drink,
but to sit at my right and at my left, this is not mine to give
but is for those for whom it has been prepared by my Father."
When the ten heard this,
they became indignant at the two brothers.
But Jesus summoned them and said,
"You know that the rulers of the Gentiles lord it over them,
and the great ones make their authority over them felt.
But it shall not be so among you.
Rather, whoever wishes to be great among you shall be your servant;
whoever wishes to be first among you shall be your slave.
Just so, the Son of Man did not come to be served
but to serve and to give his life as a ransom for many."


Catechism of the Catholic Church
53 The divine plan of Revelation is realized simultaneously "by deeds and words which are intrinsically bound up with each other"4 and shed light on each another. It involves a specific divine pedagogy: God communicates himself to man gradually. He prepares him to welcome by stages the supernatural Revelation that is to culminate in the person and mission of the incarnate Word, Jesus Christ.
St. Irenaeus of Lyons repeatedly speaks of this divine pedagogy using the image of God and man becoming accustomed to one another: the Word of God dwelt in man and became the Son of man in order to accustom man to perceive God and to accustom God to dwell in man, according to the Father's pleasure.

"For greater things you were born." (Ven. Mother Luisita)
SATURDAY, JULY 25TH Mt. 20:20-28   Feast of Saint James the Apostle… "Can you drink the chalice that I am going to drink?"   
Zebedee was the father of James (the Greater) and John. They worked with their father in the family fishing business. Peter and Andrew were also brothers in the fishing business. They all worked along the same stretch of the Sea of Galilee, as we see in the Gospels.
This is how they were called to follow Jesus according to Matthew. "As Jesus was walking beside the Sea of Galilee, he saw two brothers, Simon called Peter and his brother Andrew. They were casting a net into the lake, for they were fishermen.'Come, follow me,' Jesus said, 'and I will make you fishers of men.' At once they left their nets and followed him."  (Mt. 4:18-20)
"Going on from there, he saw two other brothers, James son of Zebedee and his brother John. They were in a boat with their father, preparing their nets. Jesus called them, and immediately they left the boat and their father and followed him." (Mt. 4:21-22)
This is dramatic! This is real! They get up and leave everything! Isn't this what Matthew does? Now we have to assume Matthew had more wealth than these fishermen. But they all walked away from whatever they had!
In fact, this total commitment to Christ comes up later in the Gospels. A rich young man comes to Jesus to ask what he must do to obtain eternal life. Jesus looks at him with love for he has followed all the commandments since he was young. Jesus asks the same total commitment of him – "If you wish to be perfect, go sell all you have and give to the poor, and you will have treasure in heaven, then come and follow me." And the rich young man went away sad, for he had many possessions. His possessions possessed him and they did not bring him happiness, fulfillment, or joy.
This incident prompts Jesus to tell His disciples who are listening to this whole conversation: "Truly I tell you, it is hard for someone who is rich to enter the kingdom of heaven. Again I tell you, it is easier for a camel to go through the eye of a needle than for someone who is rich to enter the kingdom of God."
The disciples are astonished. They say, "Who then can be saved?" Clearly these are the ones who had money and possessions.
This is when Peter pipes up and asks the big question: "We have left everything to follow you! What then will there be for us?"And Jesus makes this great prophecy that will echo down through history until the end of time regarding the Apostles, but also all priests and men and women religious! "Truly I tell you, at the renewal of all things, when the Son of Man sits on his glorious throne, you who have followed me will also sit on twelve thrones, judging the twelve tribes of Israel. And everyone who has left houses or brothers or sisters or father or mother or wife or children or fields for my sake will receive a hundred times as much and will inherit eternal life." (Mt. 19: 28-30)
Eleven of the original twelve apostles chosen by Jesus will persevere. And this will be their great reward! Despite all their faults, failings, and shortcomings! Their tempers, quarreling among themselves, and their cowardice in running away from the cross and abandoning Jesus in His final hours and greatest need. Gives us hope, right? Hope that we too can be a saint someday in heaven! Remember, everyone in heaven is a saint by definition!
Let us return to James and John. We know about their father. Their mother was Salome. She has her own place in the Gospels. She was one of the women following and ministering to Jesus and the Apostles. She was with the women who stood a little ways away from the cross, while her son John the beloved disciple, Mary, and Magdalene stood beneath the cross of Jesus. (Mk. 15:40-41)
She was one of the women at the tomb with Magdalene early that first Easter morning. "When the Sabbath was over, Mary Magdalene, Mary the mother of James (the Lesser), and Salome bought spices so that they might go to anoint Jesus' body." Instead of finding Jesus' body, they encountered an Angel of God. As they entered the tomb, they saw a young man dressed in a white robe sitting on the right side, and they were alarmed. "Don't be alarmed," he said. "You are looking for Jesus the Nazarene, who was crucified. He has risen!"
Now let's look at the Apostles. Peter, James and John were the Lord's three closest friends. They were in the room when Jesus raised Jairus' daughter from the dead. They were the privileged witnesses of Jesus' Transfiguration in glory on Mount Tabor. Jesus called them to stay close by Him to pray with Him when He was sorrowful unto death in the Garden of Gethsemane.
Our Lord nicknamed James and John, Boanerges – Sons of Thunder, because of their impetuous zeal. They must have come by it naturally, for their mother, Salome asks Jesus if her sons can sit one on His right and one on His left in His kingdom, even though He just predicted His Passion and death for the third time, prompting Jesus to respond, "You do not know what you are asking!"
Now it's Jesus turn to ask a question. Turning to James and John, He asks, "Can you drink the chalice that I am going to drink?" Chalice is commonly used in the Old Testament to mean suffering. Without hesitation they boldly respond, "Yes, we can!" Impetuous zeal, yes, but yoked with courage!
Saint John Paul II saluted their response: "These words express generous docility. They reflect an attitude that belongs to all the young at heart and all Christians, especially those who are willing to be apostles of the Good News!"
"You will drink from my cup," says Jesus! And in 44 AD James became the first apostle to be martyred, he was decapitated. Tradition has it that they tried to martyr John more than once, but He was miraculously saved each time. Though he suffered persecution, even exile, throughout his long life.
Paul says all the disciples of Jesus must drink from His chalice – willingly participating in the suffering of His Passion and death in order to share in the glory of His resurrection!
Paul speaks for all disciples of Christ when he says, "…in my flesh I am filling up what is lacking in Christ's afflictions for the sake of His body, that is, the Church." (Col 1:24)
By means of our sufferings – both large and small – in a mysterious yet real way – we make up for what is lacking in the Passion and death of Jesus which is prolonged in time with its saving fruits.
From the time of James' first noble expression of holy ambition to the time of his martyrdom, he grew spiritually! In Luke Chapter 9, James asks the Lord if he should call down fire to destroy the Samaritans for not receiving Jesus. Over time his fiery zeal grew into a fruitful determination to save souls, as he learned that zeal for souls cannot be bitter or angry.
According to tradition, James the Greater preached the Gospel in Spain and then returned to Judea. The first of the Apostles to die, he was martyred by Herod Agrippa, grandson of Herod the Great. We can see fruits of James' conversion when he went before the tribunal. His faith and integrity were so apparent that his accuser begged his pardon! Impetuous, zealous James embraced the man saying, "Peace be with you!" Whereupon the accuser also became a Christian and the two of them received the crown of martyrdom together! This account came from Clement of Alexandria who said the account came to him from those who were before him, and was reported by the historian Eusebius.
The glory of God is the only worthwhile ambition in this life, and the glory of God is in preaching God's forgiveness and mercy so that souls may repent and return to Him!
St. James mortal remains were later brought to Santiago de Compostella in Spain which became a popular pilgrimage site. In 1075 A.D. a cathedral was built on the site, replacing a Chapel that was there. The cathedral has historically been a place of pilgrimage on the Way of St. James since the early Middle Ages and marks the traditional end of the pilgrimage route.
As we meditate on the Gospels, we can see the defects of the apostles. They could be ambitious and argumentative, lacking in understanding and even short on faith. Yet Jesus chose them to become great saints here and in eternity!
James had defects and weaknesses, but he also had magnanimity – great generosity with great courage. Formed by the Lord into His own image, James became a man of such deep faith and mercy that His witness convinced another man to die for Christ on the spot!
The Lord is calling each of us to serve Him. Let us not become discouraged with our defects and weaknesses. If we turn to the Lord with confidence, He'll give us the grace to continue on our path and overcome our failings as He forms us little by little into His image, for the glory of God and the salvation of many souls!
Let us beg the Lord to save as many souls as possible with our lives! The Lord is trustworthy! He will be faithful to complete the good work He has begun in us!
St. James the Greater, Pray for us!