PRAYER ESSENTIALS: SILENCE AND AN OPEN HEART
I Kings 19:11-13  ELIJAH ENCOUNTERS THE LORD, WHERE???
1. God cannot be found in the midst of noise….
2. God is found in the silence; He is present in the gentle breeze!
3. Is my life cluttered with useless noises???
4. Could I eliminate excessive t.v, radio,  useless chatter, (gossip)
5.  Maybe  I have  purposely sought out noise because I am afraid to be alone and encounter myself and who God really wants me to be?
*****Meditate on this passage and these points. Have an open, friendly conversation with the Lord. He is waiting for you!

THE OPEN DOOR/ THE OPEN HEART:   REV. 3: 14-22
1. LUKEWARMNESS IN THE SPIRITUAL LIFE!  Have a fallen into a state of lukewarmness, tepidity, mediocrity in my spiritual life.  This is an abomination before the Lord.
2. FIRE!  Lord ignite my heart once again with fire. Lord give me a spark of that fire that came down on the Apostles that first Pentecost!
3. MATERIALISM.  Have riches taken a hold of your heart?  You cannot serve both God and money at the same time.  Are your possessions possessing you? Remember Lazarus and the rich man. The rich man was lost because his riches blinded him to Jesus in the poor Lazarus outside the gate.  Do I have blind spots in my spiritual life?
4. REPROOF!  God reproves those He loves. Accept reproval and fraternal correction with great humility— you will grow in holiness!
5. OPEN DOOR!  Jesus now is knocking at the door of your heart.  Is your door closed with lock and key and chain? is your door (heart) locked just with key?  is your door closed? is your door partially open? is your door totally open.  The Lord is knocking and waiting!
The above are two Biblical passages that can help you to enter into a retreat or simply to meditate. Two essentials for prayer are   SILENCE AND OPENNESS..   May the Blessed Virgin Mary, our great example, attain for us  exterior and interior silence and a well-disposed heart. "Behold I am the handmaid of the Lord, may it be done to me according to your word."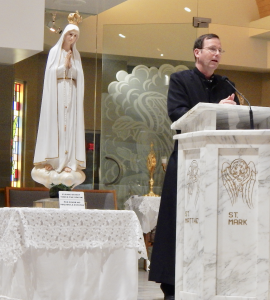 Father Ed Broom, OMV, is Associate Pastor of St. Peter Chanel Church in Hawaiian Gardens, California. He is a member of the Oblates of the Virgin Mary and was ordained by Saint John Paul II on May 25, 1986. Fr. Ed teaches Catholic Ignatian Marian Spirituality through articles, podcasts, a radio show, retreats and spiritual direction.