YOUR ANGEL FRIEND: WAYS TO GROW IN THIS FRIENDSHIP
PRAY!  Have a set time to pray to your Guardian angel every day. Greet him in the morning; greet him in the evening; greet him at midday!
MICHAEL.   "Who is like unto God".  Daily pray the prayer to St Michael the archangel, defend us in battle. Especially call upon him in time of spiritual battle and temptation.  He is the patron saint of soldiers and of course we are spiritual soldiers fighting for the conquest of our souls and the souls of the whole world!
GABRIEL.   "Power of God".  He is the patron saint of communication. (Pope Paul VI). Before initiating a conversation with anybody invoke this Archangel that your thoughts, words and intentions would be directed to the Honor and glory of God.  He who communicated the greatest message— that of the Incarnation of the Son of God   to Mary— can help you to be a true herald of good news!
RAPHAEL.  "GOD HEALS".   Turn to this archangel for many special intentions. Beg him to guide you to heaven.  Implore the grace of purity of life!  Ask him to help you to use your eyes to contemplate the beauty of God.  All important, beg him for your son/daughter that they might meet the future spouse that God has planned for them.  Raphael is the patron of  those called to the married life!  All important, ask him to fill you with joy.  In moments of sadness, may he become your companion through the dark tunnels of life, pointing you towards your eternal home.
ANGELS AND MASS!  Another special grace that your angel can attain for you is  the ability to concentrate more fully in the greatest of prayers— the Holy Sacrifice of the Mass.   The Guardian Angel of Fatima taught Jacinta, Francisco, and Lucia how to adore God and how to receive Jesus reverently in Holy Communion and our angels can help us.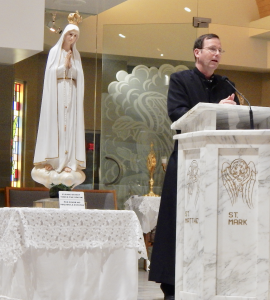 Father Ed Broom, OMV, is Associate Pastor of St. Peter Chanel Church in Hawaiian Gardens, California. He is a member of the Oblates of the Virgin Mary and was ordained by Saint John Paul II on May 25, 1986. Fr. Ed teaches Catholic Ignatian Marian Spirituality through articles, podcasts, a radio show, retreats and spiritual direction.