FROM HUMDRUM TO HOLY
P. ED BROOM, OMV (P. Escobita)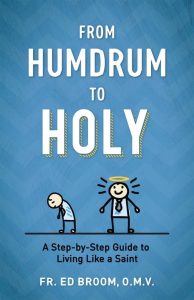 PASAR DE ORDINARIO Y MONOTONO A SANTO EXTRAORDINARIO
"Barriendo" el polvo que nos impide ser santos.
La publicación de mi primer libro tuvo su gran debut – gracias a la editorial Sofia Press – con el titular llamativo: From Humdrum to Holy.  La finalidad de esta pequeña y humilde obra fue, es, y será, motivar a todos a salir de una vida rutinaria de mediocridad, tibieza y anemia espiritual y vivir lo que Dios quiere de nosotros – que seamos santos – mejor dicho, ¡grandes santos!
El Libro de Apocalipsis … Read more