Jesus said that out of the abundance of the heart the mouth speaks and that every word that comes from our mouth we will have to render and account and St James  chapter 3 clearly challenges us to use our tongue for the honor of God.   Below are ten helpful suggestions! Let us read and try to apply to our daily life of speech!!!
PRAY: THE HOLY SPIRIT.   Look at the Apostles!  Before Pentecost they fled and Peter even denied Jesus with his tongue. After the 1st Novena of Pentecost, there is a radical transformation.  Peter  launches a Pentecost homily and converts 3000!!!! How??? Prayer to the Holy Spirit.   A short but potent prayer:  " Come Holy Spirit, come, through the Heart of Mary."
THINK!  St James says we should be quick to listen and slow to speak  Next, avoid impulsivity!   Think before you speak!  How often have we spoken on there spur of the moment, without reflection, have hurt the person and have to pay  for the consequences!  The Imitation of Christ asserts:  "Few have regretted for having maintained silence, many for having spoken out of time!
GOLDEN RULE! Remember this precious and powerful rule of Jesus:  "Do to others what you want them to do to you."  We can apply this to speech:  "Say to others what you want them to say to you!"
SILENCE!  Mothers have often taught their children this axiom:  "If you do not have anything good to say, then do not say it!"  Good advice!
AGITATED????  In moments of agitation, it is best to avoid speech. Better to retire to your room, pray a part of the Rosary, then  enter into conversation calm and collected!   In agitation, the bad spirit works on us and that also means our speech!
ENCOURAGEMENT!  Learn  words of encouragement.  We all need affirmation, support, and encouragement.   Be a BARNABUS!!!!   Barnabus was one of the latter apostles and his name means, "Son of encouragement". Why not form a "Barnabus" club!!!
PARDON!  When it does happen, that you fail in your speech, thereby hurting your neighbor, muster up enough humility and courage to express two very difficult words: I'M SORRY!!!! Shakespeare hit the nail on the head:  "To err  is human to forgive is divine,"
SPIRITUAL READING!  It might be that we arrive at interior vacuum; we have little to say of real value!  Form Thia habit of good spiritual reading— a half an hour a day—- and many  holy, edifying, and sanctifying thoughts in your mind and heart will be transformed into words and serve to truly sanctify others!!!  Ignatius in the CONTEMPLATION TO ATTAIN LOVE  says that love is expressed by giving!  Why not share the spiritual treasures of your heart with others!
HOLY COMMUNION REMINDER!!!!  Remember that with the same tongue you receive the Eucharistic Lord, the "Lord of Lords and King of Kings" you speak. Hopefully our speech will reflect WHO we have just received on our tongue and in our hearts!
MARY AS MODEL!   Turn to Mary and beg for her powerful intercession to help you in your speech. Imagine Mary talking to Joseph, Jesus, St Elizabeth, and others.  What love, attention, kindness, meekness, humility, discretion, joy….  Surely, Mary who said "Yes" to the Word of God, will attain for us the grace to express clearly, convincingly, charitably every word that comes from our mouth.  "  My soul proclaims the greatness of the Lord, and my spirit rejoices in God my savior."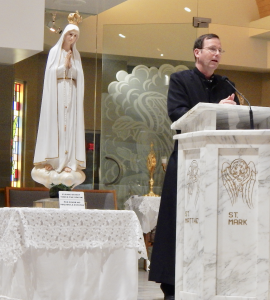 Father Ed Broom, OMV, is Associate Pastor of St. Peter Chanel Church in Hawaiian Gardens, California. He is a member of the Oblates of the Virgin Mary and was ordained by Saint John Paul II on May 25, 1986. Fr. Ed teaches Catholic Ignatian Marian Spirituality through articles, podcasts, a radio show, retreats and spiritual direction.