August 8, 2020
Memorial of Saint Dominic, Priest
Reading 1 HAB 1:12-2:4
Are you not from eternity, O LORD,
my holy God, immortal?
O LORD, you have marked him for judgment,
O Rock, you have readied him punishment!
Too pure are your eyes to look upon evil,
and the sight of misery you cannot endure.
Why, then, do you gaze on the faithless in silence
while the wicked man devours
one more just than himself?
You have made man like the fish of the sea,
like creeping things without a ruler.
He brings them all up with his hook,
he hauls them away with his net,
He gathers them in his seine;
and so he rejoices and exults.
Therefore he sacrifices to his net,
and burns incense to his seine;
for thanks to them his portion is generous,
and his repast sumptuous.
Shall he, then, keep on brandishing his sword
to slay peoples without mercy?I will stand at my guard post,
and station myself upon the rampart,
And keep watch to see what he will say to me,
and what answer he will give to my complaint.
Then the LORD answered me and said:
Write down the vision
Clearly upon the tablets,
so that one can read it readily.
For the vision still has its time,
presses on to fulfillment, and will not disappoint;
If it delays, wait for it,
it will surely come, it will not be late.
The rash man has no integrity;
but the just man, because of his faith, shall live.
Responsorial Psalm PS 9:8-9, 10-11, 12-13
R. (11b) You forsake not those who seek you, O Lord.
The LORD sits enthroned forever;he has set up his throne for judgment.He judges the world with justice;he governs the peoples with equity. R.
The LORD is a stronghold for the oppressed,
a stronghold in times of distress.
They trust in you who cherish your name,
for you forsake not those who seek you, O LORD. R. 
Sing praise to the LORD enthroned in Zion;
proclaim among the nations his deeds;
For the avenger of blood has remembered;
he has not forgotten the cry of the poor. R. 
Alleluia 2 TM 1:10 
R. Alleluia, alleluia.
Our Savior Jesus Christ has destroyed death
and brought life to light through the Gospel.
R. Alleluia, alleluia.
Gospel MT 17:14-20
A man came up to Jesus, knelt down before him, and said,
"Lord, have pity on my son, who is a lunatic and suffers severely;
often he falls into fire, and often into water.
I brought him to your disciples, but they could not cure him."
Jesus said in reply,
"O faithless and perverse generation, how long will I be with you?
How long will I endure you?  
Bring the boy here to me."
Jesus rebuked him and the demon came out of him,
and from that hour the boy was cured.
Then the disciples approached Jesus in private and said,
"Why could we not drive it out?"
He said to them, "Because of your little faith.
Amen, I say to you, if you have faith the size of a mustard seed,
you will say to this mountain,
'Move from here to there,' and it will move.
Nothing will be impossible for you."
Scripture texts in this work are taken from the New American Bible, revised edition © 2010, 1991, 1986, 1970 Confraternity of Christian Doctrine, Washington, D.C. and are used by permission of the copyright owner. All Rights Reserved. No part of the New American Bible may be reproduced in any form without permission in writing from the copyright owner.

Catechism of at the Catholic Church
67 Throughout the ages, there have been so-called "private" revelations, some of which have been recognized by the authority of the Church. They do not belong, however, to the deposit of faith. It is not their role to improve or complete Christ's definitive Revelation, but to help live more fully by it in a certain period of history. Guided by the Magisterium of the Church, the sensus fidelium knows how to discern and welcome in these revelations whatever constitutes an authentic call of Christ or his saints to the Church.
Christian faith cannot accept "revelations" that claim to surpass or correct the Revelation of which Christ is the fulfilment, as is the case in certain nonChristian religions and also in certain recent sects which base themselves on such "revelations".

"For greater things you were born." (Ven. Mother Luisita)
SATURDAY, AUGUST 8TH   Mt. 17: 14-20   Feast of Saint Dominic   "Amen, I say to you, if you have faith the size of a mustard seed… nothing will be impossible for you."

If we want to grow in Faith, we must turn to Mary – the Woman of Faith!
"Saint Paul tells us that our religion is vain unless we have faith in the mystery of our Savior's Resurrection — where was this faith on the day after our Lord's death? In one heart only, and that was Mary's. As it was her chaste womb that had held within it Him whom heaven and earth cannot contain, so on this day, by her firm and unwavering faith, she resumes within her single self the whole Church."  ~Dom Prosper Gueranger
IMITATE THE VIRTUES OF MARY – THE BIG TEN by Fr. Ed Broom, OMV
From the cross, Jesus gave the person He loved most on earth, His Blessed Mother Mary, to Saint John and to us as our Mother most holy! May we strive to know Mary, to love Mary, and to imitate Mary a little more every day. In his Marian Spiritual Masterpiece, True Devotion to Mary, Saint Louis de Montfort highlights ten of the most important virtues of the Blessed Virgin Mary. Let us put forth this list of Mary's principal virtues.
We read in the text of True Devotion to Mary by Saint Louis de Montfort (# 108):
Third, true devotion to our Lady is holy, that is, it leads us to avoid sin and to imitate the virtues of Mary. Her ten principal virtues are: deep humility, lively faith, blind obedience, unceasing prayer, constant self-denial, surpassing purity, ardent love, heroic patience, angelic kindness, and heavenly wisdom.
Let us humbly beg our Blessed Mother Mary for the grace to understand these ten virtues that she practiced always to a heroic degree of perfection, but also let us beg for the grace to be able to put these virtues into practice in our daily walk of life!
1. DEEP HUMILITY. A humble person recognizes that all the good they have done, and can do, is a result of the Presence of God in their life. Mary was most humble, calling herself the servant or the handmaid of the Lord. Also, in her magnificent canticle of praise that we call The Magnificat (Lk. 1:46-55), Mary states that God has looked with favor upon the humility of His handmaid. Let us beg Mary for a meek and humble heart so that like her, we will attribute our successes to God and our failures to ourselves.
2. LIVELY FAITH. Faith is one of the three theological virtues—faith, hope, and charity. Faith is believing in God and His Word without seeing with our eyes. Jesus gently reproved the doubting Thomas with these words: "Blessed are those who believe without seeing." (Jn. 20:29) Mary is the woman of faith par excellence. Even though Mary witnessed the Passion, suffering and death of Jesus, she believed that He would conquer death. Therefore, when we are tempted to doubt, let us turn to Mary, the woman of faith, and beg for her most powerful intercession.
3. BLIND OBEDIENCE. By giving her consent in the Annunciation—"Behold, I am the handmaid of the Lord; be it done to me according to your word." (Lk. 1:38)—Mary displayed an admirable attitude of obedience to the Word of God and trust in His holy will. When we are tempted to rebel and turn against God, let us, through Mary's prayers and example, obey God like Mary and like Jesus who "was obedient to death, even death on the cross." (Phil. 2:8)
4. UNCEASING PRAYER. Prayer can be defined as communication with God. There is no better example in the world, aside from Jesus, with respect to a life of constant prayer then that of the Blessed Virgin Mary. Scripture tells us, "Mary pondered these things in her heart." (Lk. 2:19) Continually she thought of God in her mind and loved God with all of her heart; she maintained constant communication with the Blessed Trinity: the Father, the Son, and the Holy Spirit. The devil of laziness can attack all of us. May Our Lady inspire us to be constant, fervent, and faithful in prayer! Indeed, prayer is the key to our salvation. What air is to the lungs, prayer is to the soul!
5. CONSTANT SELF-DENIAL. Another way of wording this is mortification—the ascetical life which leads to the mystical life of union with God. Mary denied and sacrificed herself in all times and places. By doing so, she gave full reign for God to work in the entirety of her life. In Mary's approved Apparitions, both in Lourdes and Fatima, she strongly encouraged the practice of prayer, but also that of sacrifice. By making sacrifices we are imitating Mary in the art of self-denial. Self-denial turns us towards God and away from self. Mary was always God-centered and never self-centered. May this be our style of life!
6. SURPASSING PURITY. One of the most sublime virtues that characterizes the most Blessed Virgin Mary is that of her spotless purity; Mary is known as the Immaculate One. In Fatima, Our Lady sadly expressed that most souls are lost to the eternal fires of hell due to sins against the virtue of holy purity. Mary is the Perpetual Virgin. She was virgin before the birth of Jesus, during the birth of Jesus, and after the birth of Jesus. True devotion to Mary can help us maintain our purity, and if we have lost it, to seek restoration through Sacramental Confession. Contemplating a beautiful picture, painting, or statue of Our Lady can instill in us noble aspirations for purity.
7. ARDENT LOVE. Of all the virtues that we are called to practice, that of ardent love, sometimes called charity, is the greatest. Read the beautiful hymn of love of Saint Paul: I Corinthians 13. Our Lady practiced love to a sublime degree and in two ways, for love or charity has two dimensions. Mary at all times and in all places loved God first and foremost. However, Mary expressed concretely her love for God by ardent love for her neighbor. Examples of this. In the Annunciation, through her unconditional Yes Mary showed her total and unreserved love for God. However, moving in haste to visit her cousin Elizabeth, Mary manifested great love for her neighbor. In imitation of Mary, may we say in the words of Saint Paul, "The love of God compels me." (2 Cor. 5:14) May we learn this double commandment—love of God and love of neighbor—and strive to live it out on a daily basis. Saint John of the Cross states: "In the twilight of our existence, we will be judged on love."
8. HEROIC PATIENCE. Not one of us can say that we are patient at all times, in all places, and in all circumstances. Unlike Mary, who manifested remarkable patience! Consider Mary in her pregnancy, travelling the long trek to Bethlehem and then being rejected—what great patience! Losing the Child Jesus when He was twelve years of age for three long days before finding Him in the Temple—another manifestation of heroic patience! Most especially, in accompanying Jesus in His Passion leading up to His brutal Crucifixion and death, Mary manifested an unequalled patience! When our patience is put to the test, let us call out to Mary for her assistance. She will never fail us!
9. ANGELIC KINDNESS. The opposite of kindness is rudeness. Just try to imagine the way and manner in which Mary must have treated her neighbor! A warm welcome, a kind and winning smile, courtesy to the maximum, an attentive ear to listen—all of these are clear manifestations of kindness, angelic kindness. Mary did all this to the highest degree! Saint Frances de Sales on this virtue commented: One can attract more flies with a spoonful of honey then with a barrel full of vinegar. In other words, kindness attracts others to Christ while rude and drastic measures repel them. May Our Lady teach us what it means to be kind and may we put it into practice!!!
10. HEAVENLY WISDOM. One of the sublime titles given to Mary in her glorious Litany is that of SEAT OF WISDOM. A wise person knows what is most important in life. Dynamic love for God and ardent desire for the salvation of immortal souls are hallmarks of true wisdom. Our Lady had a burning love for God and a fervent desire for the conversion of sinners and their eternal salvation. "The Blessed Virgin persevered in her union with her Son unto the cross… joining herself with his sacrifice in her mother's heart." (Vat II, Lumen Gentium) King Solomon was once wise, but he gave into his weakness—that of lustful desires—and ended his life a fool. We beg the intercession of Our Lady, Seat of Wisdom to attain for us not only wisdom now, but perseverance in this sublime virtue until the very end!
In conclusion, may we ardently desire to know, love, and imitate our Blessed Mother Mary! May we be motivated with a firm decision to meditate frequently and fervently on the virtues of Mary most holy and then strive to live them out all the days of our life! Holy Mary, Mother of God, pray for us sinners, now and at the hour of our death. Amen.
 LET US END WITH THESE SAINT QUOTES HONORING OUR DEAREST MOTHER!
 In honor of the Feast of St. Dominic, let us acknowledge his devotion to Mary and the Rosary:
According to St. Louis de Montfort in his book The Secret of the Rosary… "But it was only in the year 1214, however, that Holy Mother Church received the Rosary in its present form and according to the method we use today. It was given to the Church by Saint Dominic who had received it from the Blessed Virgin as a powerful means of converting the Albigensians and other sinners."
Other Marian Quotes…
"Mary having co-operated in our redemption with so much glory to God and so much love for us, Our Lord ordained that no one shall obtain salvation except through her intercession."
—St. Alphonsus Maria de Liguori
"Never be afraid of loving the Blessed Virgin too much. You can never love her more than Jesus did."
—St. Maximilian Kolbe
"To give worthy praise to the Lord's mercy, we unite ourselves with Your Immaculate Mother, for then our hymn will be more pleasing to You, because She is chosen from among men and angels. Through Her, as through a pure crystal, Your mercy was passed on to us. Through Her, man became pleasing to God. Through Her, streams of grace flowed down upon us." (Diary 1746)
—St. Faustina
"In dangers, in doubts, in difficulties, think of Mary, call upon Mary. Let not her name depart from your lips, never suffer it to leave your heart. And that you may obtain the assistance of her prayer, neglect not to walk in her footsteps. With her for guide, you shall never go astray; while invoking her, you shall never lose heart; so long as she is in your mind, you are safe from deception; while she holds your hand, you cannot fall; under her protection you have nothing to fear; if she walks before you, you shall not grow weary; if she shows you favor, you shall reach the goal."
—St. Bernard of Clairvaux

"If you ever feel distressed during your day — call upon our Lady — just say this simple prayer: 'Mary, Mother of Jesus, please be a mother to me now.' I must admit — this prayer has never failed me."
—St. Mother Teresa

"If you invoke the Blessed Virgin when you are tempted, she will come at once to your help, and Satan will leave you."
—St. John Vianney
"All true children of God have God for their father and Mary for their mother; anyone who does not have Mary for his mother, does not have God for his father."
—St. Louis Marie de Montfort
After the Rosary, this is a most powerful prayer for help from our Blessed Mother. This prayer saved a young man from despairing of his life and his salvation. Today we know him as St. Francis de Sales!
THE MEMORARE…
REMEMBER, O most gracious Virgin Mary, that never was it known that anyone who fled to thy protection, implored thy help, or sought thy intercession was left unaided. Inspired with this confidence, I fly to thee, O Virgin of virgins, my Mother; to thee do I come; before thee I stand, sinful and sorrowful. O Mother of the Word Incarnate, despise not my petitions, but in thy mercy hear and answer me. Amen.
Copyright 2020 Oblates of the Virgin Mary
St. Peter Chanel Church, Hawaiian Gardens, CA

The vision of St. Dominic receiving the Rosary from the Virgin by Bernardo Cavallino

Basilica of San Domenico, Bologna, Italy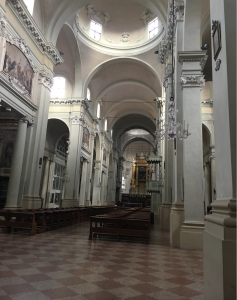 Relic of the skull of St. Dominic, found in the Basilica of San Domenico, Bologna, Italy