Do you eat to live or live to eat? This is the question! One of the biggest struggles for millions of people throughout the world, but especially in the United States, is that of intemperance, gluttony, or if you like call it simply overeating, as well as eating poorly.
Overweight, sluggishness, mental numbness, physical conditions like diabetes, high-cholesterol, ulcers, heart-conditions, and much more often are directly or at least indirectly related to the problem of gluttony. There is an Argentine proverb that spells this out: There are more people in the cemetery for gluttony (the fork) than for wars! In other words, we are digging our own funeral pit with our forks and our teeth by improper eating habits.
OVER-WEIGHT PEOPLE/OBESITY.  Recently, in a talk radio program a well-known celebrity was marveling over a detail that caught his eye in perusing his 1978 High School Yearbook—nobody seemed to be overweight! We are talking about almost 40 years ago. This phenomenon illustrated in his Yearbook was  pervasive in almost all of the Yearbooks forty years ago. People were simply more slim and fit. The obvious reason for the difference between then and now is that of bad eating habits.
GLUTTONY: THE MANY FORMS.  Saint Thomas Aquinas, back in the 1200's, wrote on many topics and one of these was that of the so called CAPITAL SINS.  Of course one of the capitals sins was and still is that of GLUTTONY. A concise definition of the capital sin of gluttony is the following: Gluttony is a disordered desire to eat and drink. The key word is disordered! Sin is in the disorder or the abusing of the gift, rather than using it based on faith and reason. Saint Thomas Aquinas lists the various ways that gluttony can manifest itself: overeating, eating too quickly, eating only the most refined foods, eating in between meals—meaning, eating when you are really not hungry. This is not mentioned by Aquinas but it should be added: eating what Americans call junk-food—that is to say, food that really does damage your health.
DO YOU EAT TO LIVE OR LIVE TO EAT???  Here is a key question regarding our topic of gluttony: Do you eat to live or live to eat? If you can honestly assert that you eat so as to live, then you are practicing the opposing virtue of gluttony, which is called Temperance. This virtue of temperance is one of the four moral or cardinal virtues. What is temperance? Simply this: Temperance is the moderate use of created goods! In other words, we are not abusing creation—most specifically food—rather we are using it for the purpose that it exists: to nourish and strengthen us. Therefore, we should always be aiming at the right interpretation of the question—namely, I will eat so as to live!
SAINT PAUL: THE GOD OF THE BELLY.  In one of his letters, Saint Paul highlights that one of the sins is that of gluttony, and he calls it the god of the belly. Sin can become a bad habit; we call this a vice. Gluttony, for many, is a vice—an ingrained bad habit that has dominated their lives for years, maybe even decades.
REASONS FOR CAVING IN TO THE SIN OF GLUTTONY.  There are various reasons for succumbing to the sin of gluttony and we will give a few.
1. ORIGINAL SIN. Due to the sin of our first parents, Adam and Eve, we are all born with concupiscence, a disorder in our human nature that pulls us toward sin and these are the Capital Sins. Of course regarding one of these, there is an interesting note with respect to our first parents, Adam and Eve, and their first sin that we call Original Sin. Their sin was that of pride, but also that of gluttony—they ate from the tree the forbidden fruit that they should not have eaten. In other words, it all goes back to our first parents, Adam and Eve.

2. BAD FAMILY PATTERNS. It must be mentioned that very often adults have problems with gluttony, both over-eating, eating poorly, and drinking to excess (which is part of gluttony) for the simple reason that their parents never instilled in them good eating habits. In other words, as children they could eat when they wanted, what they wanted, and however much they wanted! Obviously, this was a sure recipe for the vice of gluttony!
3. THE SOCIETY AS A WHOLE. The American society promotes the sin of gluttony in almost all times and all places. TV commercials to eat and drink to one's heart's content, billboards promoting eating and drinking, endless parties with an excess of food and drink, and even slogans such as It's Miller time! Then this famous slogan which actually comes from one of the Letters of Saint Paul: You have one life to live; eat, drink, and be merry! (If there is no life beyond the grave).
4. Most of us have been invited to eat out at a Buffet on a certain night when there was a discount with the enticing words:  Tuesday Night, eat all you can for $4.99! After you finish your second big platter, you go back for the third, even though you are already stuffed like a Thanksgiving Turkey. You reason: Well, I paid for it; so there is nothing wrong with me going back to get more helpings! The food won't go to waste, but to your waist!
  
5. THE PRESSURES OF LIFE AND STRESS. Another key reason for capitulating to the sin of gluttony is simply the constant stress, tension, and fast-pace of modern life. All of these can cast us into a state of desolation, meaning sadness, discouragement, and even depression. Therefore, the law of compensation kicks in, in full force. Also, the devil knows our weakness or our so to speak Kryptonite—which might be that of Gluttony, and tempts us to overindulge. Therefore, it is all too easy to seek refuge, comfort, and solace in the palate, in over-indulging in food and drink. It is a quick, easy, and often not overly expensive refuge. Saint Thomas Aquinas, quoted often in the Catechism of the Catholic Church, states that sin is against reason! Meaning, if we are full, then stop eating—this is common sense and basic reason! Still, we rationalize and say:  It tastes so good; I don't want to offend the Host; I don't want it to go to waste; or, simply, well, just this time! The ability to rationalize and lie to ourselves is all too easy, especially with respect to the Capital Sin of Gluttony!
AN EFFICACIOUS REMEDY!  In another article we can write various steps to undertake to overcome and conquer the Capital Sin of Gluttony in our daily walk with the Lord. However, in conclusion we would like to offer one suggestion which we believe is the most efficacious. This can be found in the Gospel of Saint John Chapter Six: The Bread of Life Discourse. Many people were following Jesus for the wrong reasons: to see miracles and for free fish sandwiches! Jesus said point blank: Do not seek perishable food… Rather seek the Bread that gives eternal life. I am the Bread of Life. Whoever eats my Body and drinks my Blood will have everlasting life and I will raise him up on the last day. In other words, those who are struggling to overcome gluttony, or any vice for that matter, can find solace, comfort, support, healing, and strength in the frequent, fervent, and loving reception of Jesus truly present in the Holy Sacrifice of the Mass in Holy Communion. Why not aim at going to daily Mass and receiving Jesus in Holy Communion. If done frequently, fervently, and with great love, we honestly believe that all sins and vices can be conquered and we will be able to live in the true liberty of the sons and daughters of God!  Mary, Mother of the Incarnate Lord Jesus, pray for us!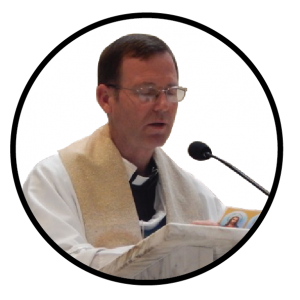 Father Ed Broom, OMV, is Associate Pastor of St. Peter Chanel Church in Hawaiian Gardens, California. He is a member of the Oblates of the Virgin Mary and was ordained by Saint John Paul II on May 25, 1986. Fr. Ed teaches Catholic Ignatian Marian Spirituality through articles, podcasts, a radio show, retreats and spiritual direction.